Every backpacker has thought about ditching their rain pants. It doesn't matter what pair of rain pants I wear, my pants always get wet! I didn't realize how much I would sweat in rain pants until I started wearing them. What's the point of rain pants if you still get wet? Do I Need Rain Pants For Backpacking?
You should carry a pair of rain pants for backpacking, but they won't keep your hiking pants dry! Rain pants are designed to keep you warm by blocking wind and keeping out cold exterior moisture, but you will have to deal with sweat and condensation. You may also want to consider lighter options like ponchos, rain kilts, rain chaps, hiking umbrellas, etc.
I have mixed feelings about rain pants. They cut down on rain/wind, make me warmer, but rain pants won't keep you dry. They're great at blocking out rain, but they're just as good at trapping sweat and condensation.
So why bother wearing rain pants if they don't keep you dry? Here's a hint: it's all about conserving body heat. Let's go over why I think rain pants are a necessary piece of backpacking gear, even if they don't keep you dry.
Are Rain Pants Necessary For Backpacking?
Honestly, 99% of the time rain pants aren't necessary. There's definitely a time/place where it's nice to have rain pants, but you can usually tough it out and keep hiking without them. If conditions become unbearable, stop to set up camp early, and make up time the following morning.
Rain pants may actually cause more problems than they solve backpacking on hot days with light/moderate rain. Waterproof rain pants are great at blocking out rain, but waterproofing works both ways. They also trap sweat, since it can't evaporate through waterproof fabrics, and cause condensation issues.
Temperatures drop as it rains and your body temperature will warm up the inside of your rain gear. It won't take long for condensation to form on the inside of your rain gear. This usually leads to your clothes getting soaked worse than if you hadn't worn rain gear at all.
With that being said, there are times where it makes sense to carry rain gear. You should always wear rain gear in cold/windy weather or when you're expecting heavy rain. I always carry some form of rain protection (even if I don't always use it). It might be necessary to carry rain pants backpacking in hot weather, but it's nice to have something (like a cheap disposable poncho).
I was surprised to learn that the purpose of rain gear isn't to keep you dry! Rain pants trap body heat by blocking wind and cold exterior moisture. Sweat and condensation inside your rain gear won't be comfortable, but it's warmed up by your body heat. Your clothes will be wet, but at least you won't be cold.
Check out my post Hiking In Rain Pants Post for more information. It goes over reducing sweat and condensation so you'll be more comfortable on long hikes. You may also want to check out my ultimate guide to camping in the rain!
Are rain pants worth it? Why wear them if I still get wet?
Yes you will definitely want to carry some type of rain protection. It doesn't specifically need to be rain pants/jackets, but you need some way to preserve body heat. You can choose lighter options like ponchos, chaps, rain kilts, etc (compactor bags work in a pinch).
Even a cheap disposable poncho will be better than nothing. They're lightweight, compact, and ridiculously cheap. I don't always carry rain gear in the summer, but I keep a 2oz poncho in my first-aid kit for emergencies.
Water resistant moisture-wicking hiking pants are good enough on warm days with light/moderate rain. Most of the rain will land on your pack/shoulders and your hiking pants will dry fast if they get damp. Just make sure your hiking pants are made out of a synthetic nylon/polyester blend (I wear these) that resists moisture (never wear cotton).
There are definitely times when you should carry a waterproof jacket and rain pants. You will want the added warmth of rain pants when day time temperatures drop into the 60°F range. Temperatures drop by about 10°-15°, wind picks up, and it will feel seriously chilly without rain gear.
Features To Look For In Backpacking Rain Pants
Not every pair of rain pants will be the same. Look for features that make your rain gear easier to use, while adding in ventilation. A cheap pair of Frogg Togg Rain Pants are better than nothing, but I wouldn't want to hike all day in them.
Adding ventilated zippers, adjustable ankles, and other features increases the price, but they're far more comfortable. I would rarely wear my cheap poorly ventilated rain gear, but now I toss on my Marmot Full Zip rain pants whenever there's a chance of moderate/heavy rain.
Vents Offer More Flexibility: I wouldn't buy a pair of rain pants that don't have ventilated side zippers. They add a few oz of weight to your rain gear, but they're way more comfortable. Leave the zippers open in light/moderate rain to help with sweat and condensation and zip them up in heavy downpours.
Adjustable Ankles or Baggy Opening: Look for pants with adjustable ankles since it can be annoying hiking in baggy pants. These aren't entirely necessary, but it's nice to have clean lines that won't catch on everything.
Drawstring or Sewn-In: I might be weird, but I prefer the drawstring that wraps all the way around my waist. Drawstrings last longer, and give you cushion after losing or gaining weight. Sewn-in elastic bands are more convenient, but the elastic degrades over time making them sag.
Shoe Removal: Can you put on the pants without taking off your shoes? You shouldn't have to take off your shoes to put on rain pants. Putting rain pants on over your shoes is easy with ventilated side zippers, but you can also go with pants with adjustable or baggy ankles.
Pockets: It might seem ridiculous, but cheap rainpants rarely have pockets. Look for a pair of pants with seam sealed zippered pockets to protect your phone and important gear.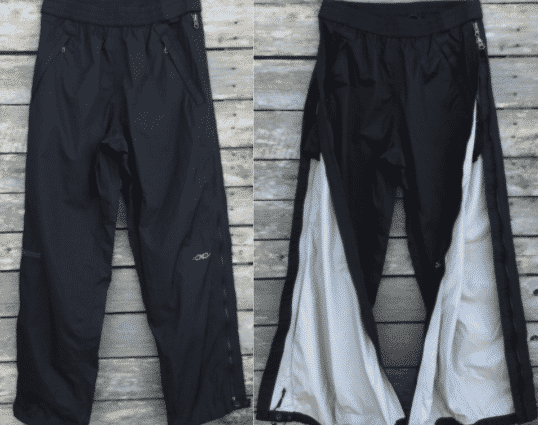 As you reduce the overall weight and add features like ankle/full-length zippers, rain pants can get seriously expensive(over $150). I went with the Marmot's Precip Full Zip Pants (pictured above), because they're the cheapest full zip pants I could find. They weight 12oz so there are lighter options available, but plan on spending $50+ to save 2-3 oz of pack weight.
If you can't afford to by ventilated pants Frog Toggs Ultralight Rain Pants are better than nothing.They don't have fancy features like ventilated zippers, but they're lightweight (5 oz) keep you warm and are seriously cheap. Plan on spending at least $100 on well ventilated pants with zippered ventilation panels.
You will be more comfortable spending the extra money to get side venting, but don't blow your budget on rain gear. The main point of rain pants is to keep you warm and any pair of waterproof rain gear can accomplish that task.
Table Comparing Different Pairs Of Rain Pants
Check out the following table to compare the different brands of rain pants. I decided to sort them by my perceived value in relation to their price, weight, and zipper style. Weights will vary depending on pant size, but this should give you an idea of the different options.
Just remember that it doesn't matter how much money you spend, your clothes will get wet. There will always be sweat and condensation even in expensive rain gear. Staying completely dry is a losing battle on rainy days so come up with a way to dry your backpacking clothes.
Check out my post explaining how to dry clothes while camping and backpacking for more info.
When Should You Put on Rain Pants?
Nobody can tell you when to throw on your rain pants. There's a fine line between when you should or shouldn't wear rain pants. You can't wait until you get cold, but putting them on early leads to sweat and condensation.
It might sound counterintuitive, but I wait until my pants are soaked before putting on rain pants. Store your rain gear at the top of your pack so it's easy to grab in the rain. I may take the time to put on a poncho, but I rarely wear traditional rain gear in light/moderate rain.
You're probably asking yourself a simple question: why should I wait until my clothes are wet to put on rain gear? Doesn't that defeat the purpose of rain gear? There's no way to avoid sweat and condensation so it's usually better to wait until you're already wet or feel cold.
Rain pants aren't meant to keep you dry! They're designed to trap in body heat and keep out the cold outside moisture and block wind). Your backpacking clothes will always get wet in the rain, so conserving body heat is all that matters.
Wear Your Rain Pants Over Regular Hiking Pants
Personally, I recommend wearing rain pants over regular hiking pants. Your hiking pants will get wet from sweat and condensation, but they should dry fast once it stops raining. Just make sure you wear a pair of synthetic or merino wool underwear to prevent inner thigh chafing.
Some people keep their hiking pants dry by stripping down, but I think it's uncomfortable. The nylon/polyester fabric feels wet and clammy against your skin. It feels like your thighs are wrapped in plastic cling wrap like you'd use on sandwiches.
If you want to keep your hiking pants dry, I recommend wearing a pair of merino wool base layer pants under your rain gear. Merino wool can absorb 35% of it's weight in water without feeling wet, dries fast, eliminates chafing issues, and won't feel uncomfortable if it gets soaked in sweat/condensation.
I like Smartwool base layers, but they can be expensive. Meriwool and Merino.tech pants are a much cheaper option if you're on a budget. They're not as durable, but they're good enough for most people!
Your Upper Body and Pants Block Most of The Rain
You can usually fight a moderate storm without needing to put on rain pants. Rain usually starts off slow so your upper body and backpack should block most of it. I'll rely on my hiking pants/shirts moisture-wicking properties in light rain, use a rain jacket in moderate rain, and toss on the rain pants when the weather starts to get bad or I feel cold.
Why wouldn't you want to put on rain pants? Sweat and condensation are a big issue, but it's also because rain pants aren't comfortable. It's like wearing one of those sauna suits that I used as a high school wrestler. You sweat like crazy, they feel humid/clammy on your skin, and it's so much hotter inside rain gear.
It Really Depends on The Temperature
Temperature is another important factor that you need to consider. Generally speaking, you really don't need rain pants in warm weather. It doesn't matter how hard it rains, your body won't feel cold.
Just keep an eye on the temperature, because rainstorms usually bring a 10°-15°F drop in temperature. It all boils down to personal preference! You're the only person that can say if it makes sense to put on rain gear. Some people get cold in moderately chilly weather and others can wear a t-shirt in 40°F weather.
It's all about figuring out your comfort level. Do you usually get cold when your legs get wet? Then slow down your pace to minimize sweat and put on your rain pants. I go most of the summer without rain gear, but I'm like a human radiator that rarely gets cold.
Alternatives to Rain Pants
A lot of people don't like wearing rain pants. They just get hot making you feel uncomfortable. Plus they just feel baggy, almost like trying to hike in snow pants. Luckily, there are a few alternatives that you might want to consider.
Rain Kilts: Rain kilts are basically just a long waterproof poncho that goes over the top of your pants. They keep out water while allowing air to flow in reducing sweat, but they can be cold in windy weather.
Rain Chaps: Rain chaps run high up your legs stopping just below the butt. These are basically just long gaiters that block the water in tall wet grass and keep your thighs dry in moderate rain.
Ponchos: I almost always carry a cheap poncho to throw over my clothes. They can be a pain to deal with in the wind, but they provide excellent airflow so you won't sweat. A cheap Frog Toggs Poncho or disposable poncho (like these) will get you through 99% of storms.
Waterproof Gaiters: Think about where your pants usually get wet backpacking in light/moderate rain. My upper body and pack blocks 90% of the rain, but my ankles always get wet walking through tall grass. Waterproof gaiters are the perfect solution to this problem and you won't have to deal with sweat/condensation.
You Might Want to Try Wind Pants
Wind pants are a great option in warmer weather. They're usually made out of water-resistant nylon/polyester blends so you get 90% of the benefit of backpacking rain pants without the sweat.
Wind can have a similar effect to rain and it can quickly strip heat away from your body (Strong Wind=Cold Body). Wind pants are a great alternative to dedicated rain gear when you're not expecting rain, but you should probably carry a cheap poncho to deal with heavy downpours.
Wind pants are a great option for light/moderate rain, but you might get chilly in colder early spring or late fall weather. Pair them with moisture-wicking synthetic hiking pants for water-resistance without the sweat and condensation.