Every backpacker has thought about ditching their rain pants. I always seem to get wet even when I put them on. Isn't rain gear supposed to keep you dry regardless of the weather forecast? They just don't work that way, so are rain pants really necessary?
Do I Need Rain Pants For Backpacking? Rain pants won't keep your legs completely dry, but they will warm you up. I recommend carrying rain pants even if they're not always necessary. You may also want to consider lighter options like ponchos, rain kilts, rain chaps, hiking umbrellas, etc.
I have mixed feelings about rain pants. They cut down on rain/wind, make me warmer, but you still get wet. I usually just tough it out and ignore the rain, but there is a time and place for rain pants. In this article I will explain when you should/shouldn't use rain pants.
Are Rain Pants Necessary For Backpacking?
Honestly, 99% of the time rain pants aren't necessary. You can just tough it out and keep on hiking. If conditions become unbearable just stop and set up camp a few hours early. You can always make up time the following morning.
With that being said, I always carry some form of rain protection(even if I don't always use it). It's just a good idea in climates/seasons where it regularly rains. They might slow you down a bit, but they will warm you up on rainy/windy days.
The purpose of hiking rain gear is to keep you warm, not completely dry. They reduce some moisture, but sweat and condensation is a serious problem. It's all about trapping in body heat to keep you warm in unfavorable conditions.
Are rain pants worth it? Why wear them if I still get wet?
Yes you will definitely want to carry some type of rain protection. It doesn't specifically need to be rain pants. You can choose lighter options like ponchos, chaps, rain kilts, etc (compactor bags work in a pinch).
Even a cheap disposable poncho will be better than nothing. They're lightweight, compact, and ridiculously cheap. Just toss one in your first aid kit and call it a day.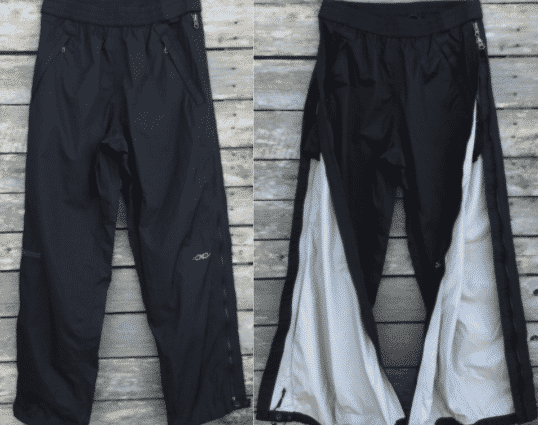 As you reduce the overall weight and add features like ankle/full-length zippers, rain pants can get seriously expensive(over $150). I personally use Marmot's Precip Full Zip Pants (rain pants pictured above).
I couldn't stand the thought of spending $150+ on rain pants. These are the cheapest full-zip pants I could find. They might not be the lightest(12 oz), but they offer the most bang for your buck.
Frog Toggs Ultralight Rain Pants are another great option, even if they're not ventilated. You can't beat them for the price. They don't have fancy features like ventilated zippers, but they're seriously cheap and weigh about 5oz. There's just no zippered options without spending serious cash.
I really don't think it's necessary to buy expensive rain pants. They always end up getting trashed and they don't need to breathe as much as the top shell. With that being said, you will definitely be more comfortable spending the extra money to get side venting.
You might want to check out the following table to compare the different brands of rain pants. I decided to sort them by my perceived value in relation to their price, weight, and zipper style. Remember that weights will vary depending on pant size
Just remember that it doesn't matter how much money you spend, you will still get wet. You'll end up sweating and probably have to deal with condensation inside your rain gear. Staying completely dry is a losing battle on rainy days.
Why Bother Wearing Rain Pants?
We constantly lose body heat throughout the day. It's a constant battle between adding extra layers and taking them off to reduce sweating. Water is really good at pulling heat away from your body.
Rain pants help prevent water from reaching your skin and trap body heat keeping you warmer. Some pants will be better than others. You should think about the following features before making a decision.
Vents Offer More Flexibility: Rain pants vary in the amount of ventilation they offer. Expensive pants have zippers varying from ankle-length to all the way up the side. These vents keep you cooler and therefore less sweaty, but they do add a few ozs of weight to ultralight setups.
Adjustable Ankles or Baggy Opening: Hiking in baggy pants can be really annoying. They make noise and get stuck on everything. Look for pants with adjusters to tighten up around your boots/shoes.
Drawstring or Sewn-In: I might be in the minority, but I prefer the drawstring that wraps all the way around. Drawstrings tend to last longer, plus they give you some cushion after losing or gaining weight.
Shoe Removal: Can you put on the pants without taking off your shoes? This is more of a concern in the winter than summer, but you still need to work on preventing blisters by minimizing moisture.
Pockets: It might seem ridiculous, but cheap rainpants rarely have pockets.
When Should You Put on Rain Pants?
Nobody can tell you when to throw on your rain pants. There's a fine line between needing them and being better off without them. You can't wait until you get cold, but putting them on early will just make you sweaty.
It might sound counterintuitive, but I wait until my pants are soaked before putting on rain pants. You need to store it at the top of your pack so it's easy to grab in the rain. I might take the time to put on a poncho if the forecast looks really bad.
You're probably asking yourself why I wait until my clothes are wet. Doesn't that defeat the purpose of rain gear? I know that my hiking pants will become just as wet from sweating in my rain gear. You actually end up dryer by waiting it out until you get cold.
Rain pants aren't meant to keep you dry! They're designed to trap in body heat and keep out the cold outside moisture(also block wind). It doesn't matter if your clothing is wet as long as you conserve body heat.
Your Upper Body and Pants Block Most of The Rain
You can usually fight out a serious storm without ever needing to put on rain pants. Rain usually starts off slow so your upper body and backpack should block most of it. Only toss on the rain pants when the weather starts to get bad.
You might be able to avoid putting on your pants completely. So why wouldn't you want to put on rain pants? Rain pants really aren't all that comfortable, plus they slow down your hiking speed.
It Really Depends on The Temperature
Take my advice for what it is. I'm just a random backpacker with my own personal opinion. You might have a different tolerance for cold and moisture.
Generally speaking, you really don't need rain pants in warm weather. It doesn't matter how hard it rains, your body won't feel cold. Just keep an eye on the temperature, because rainstorms occasionally bring a drop in temperature.
It's all about figuring out your comfort level. Do you usually get cold when your legs get wet? Then slow down your pace to minimize sweat and put on your rain pants.
Alternatives to Rain Pants
A lot of people don't like wearing rain pants. They just get hot making you feel uncomfortable. Plus they just feel baggy, almost like trying to hike in snow pants. Luckily, there are a few alternatives that you might want to consider.
Rain Kilts: Rain kilts aren't just for women. It's just a long waterproof skirt that goes over the top of your pants. They keep out water while allowing air to flow in. These are great for cutting down sweat, but they don't block much wind.
Rain Chaps: Rain chaps aren't meant to keep you all that dry in the rain. They run high up your legs stopping just below the butt. These are basically just long gaiters that block the water in tall wet grass.
Ponchos: I almost always carry a cheap poncho to throw over my clothes. They can be a pain in the butt in wind, but they provide excellent airflow so you won't sweat. A cheap Frog Toggs Poncho will get you through 99% of storms.
You Might Want to Try Wind Pants
Wind can have a similar effect to rain. It can quickly strip heat away from your body (Strong Wind=Cold Body). Wind pants are a great alternative to dedicated rain gear when you're not expecting rain. You still might want to carry a cheap poncho just in case.
They cut down on the wind which keeps you warm without feeling stuffy. You don't get the waterproofing aspect, but that doesn't offer much benefit anyway.