Every hiker that's ever purchased rain gear has thought about ditching their rain pants. They're great for keeping your pants dry in heavy rain, but they're usually not worth the hassle. There's a fine line between getting a benefit out of wearing rain pants and your legs sweating so bad that it would have been better to keep them off. So when should I hike in rain pants and are rain pants worth it?
It's worth wearing rain pants when you're hiking in heavy rain, but you might want to leave them in your pack in light/moderate rain. Buy a pair of well ventilated rain pants and wait until the rain picks up to put them on. Just make sure you pair them with a pair of moisture-wicking hiking pants to cut down on sweat.
I have mixed feelings about rain pants. Rain pants are great in heavy rain, but there's a fine line between when you should or shouldn't wear them.
Hiking In Rain Pants: Pants For Hiking In The Rain
Most people don't know how to properly wear their waterproof rain pants. There's a fine line between the right and wrong time to wear rain pants. Put them on too early and you'll end up with sweat and condensation. Wait for the rain to pick up and your hiking pants will get soaked.
There's a serious problem with waterproof rain pants. Waterproof pants are great at keeping out rain, but they're just as good at trapping in moisture. Sweat won't be able to evaporate and you'll end up with a layer of condensation on the inside of your pants.
It only makes sense to wear rain pants in heavy rain and when you're hiking in cold or windy weather. Wearing waterproof pants in light/moderate rain usually ends up causing more harm than good. Your pants end up soaked in sweat/condensation and worse than they would have been without wearing rain gear.
Mesh ventilation and side zip panels help some, but they can only do so much. I've found that wearing a pair of moisture-wicking hiking pants in light/moderate rain is better than dealing with rain pants. They get slightly wet at first, but it won't take long for them to evaporate. Plus your upper body blocks the vast majority of rain unless there's a heavy crosswind.
I usually just tough it out and ignore the rain, but there is a time and place for rain pants. Let's go over a few times when it makes sense to wear rain pants. Just make sure you spend the extra money on a quality pair of pants with proper ventilation (my favorite).
You may want to check out my ultimate guide to camping in the rain! It goes over drying your clothes, and everything else you might need to know.
When Should You Put on Rain Pants?
There's no defined, right or wrong time to put on rain pants. It all depends on your personal preferences, the temperature, and level of precipitation. There's a fine line between needing them and being better off without them. Don't wait until you get cold, but you don't want to put them on early either. Putting them on early almost always leads to sweat and condensation on long hikes.
This will probably sound counterintuitive, but I put on rain pants once my thighs are completely soaked. You're probably asking yourself why I wait until my clothes are wet? Doesn't that defeat the purpose of rain gear?
This might sound crazy, but I know that my hiking pants will become just as wet from sweating and condensation in my rain gear. I've tried every way to eliminate sweat/condensation and there's no way to get around it.
It doesn't matter what the temperature is outside, the inside of your rain pants will always get soaked. You'll sweat like crazy in hot weather, and in colder weather the temperature difference will cause condensation to form (inside body temperature vs outside air).
Why Wear Rain Pants If They Don't Keep You Dry?
What's the purpose of rain pants if they don't keep you dry? This is just my theory, but I'm gonna go with it. Manufacturers market rain pants as a way to keep you dry, but that's not the true purpose. Rain pants keep you warm by trapping body heat, blocking wind, and keeping out cold exterior moisture.
Rain pants aren't designed to keep you dry! They keep out exterior moisture, but there's no way to eliminate sweat and condensation. It doesn't matter if your clothing is wet as long as you conserve body heat.
Just make sure you wear a pair of quick-dry hiking pants made out of some kind of synthetic material. I usually wear a pair of Columbia Hiking Pants, but any type of moisture-wicking pants will work.
Are Rain Pants Worth It? Why wear them if I still get wet?
It's usually worth carrying a pair of rain pants in your pack, but it depends on a few factors. How long will you be out in the rain? Does it seem like the rain will get worse or is it a light steady drizzle? What kind of pants are you hiking in and how long will it take for them to dry?
I always carry some type of rain protection, even in the summer, but it doesn't have to be a complete rain suit. In the summer, I usually carry a lightweight water-resistant windbreaker. It's breathable so I don't sweat and good enough to keep me dryish/warm in light rain.
I also carry Cheap Disposable Ponchos (weigh 2oz) for moderate or heavy rain. You can also wear full length gaiters/chaps or rain kilts to save some weight.
It took a while for me to commit to a pair of high quality ventilated rain pants. I would carry a pair of cheap Frogg Togg Rain Pants and they were terrible. They were fine around camp, but I'd be completely drenched in sweat/condensation whenever I'd hike in them. So I would only wear them in serious downpours.
Now I carry a pair of Marmot Precip Eco Full Zip Pants in my pack and they're way better. There's a full length zipper running along both legs so there's plenty of ventilation to eliminate sweat and condensation.
I wear them over my hiking pants and keep the zipper completely open 99% of the time. A little bit of water will probably get in, but it dries fast with moisture wicking hiking pants. I'll zip them up a little bit in heavy downpours, but the only time I completely zip them is when I need the added warmth on cold windy days.
You May Not Need Rain Pants In Warm Weather
In warm weather, you can usually get by with a pair of moisture-wicking hiking pants. Just make sure your hiking pants are made out of a synthetic nylon/polyester blend. They speed up evaporation and dry fast, and nylon and polyester blends are naturally moisture-resistant.
So light rain will shed off without absorbing into the fabric and moderate rain will evaporate fast. Plus your pack and top half of your body will block most of the rain. The only time you need 100% waterproof rain pants is heavy rain, and cold or windy weather.
Generally speaking, you really don't need rain pants in warm weather. It doesn't matter how hard it rains, your body won't feel cold. Just keep an eye on the temperature, because rainstorms occasionally bring a drop in temperature.
It's all about figuring out your comfort level. Do you usually get cold when your legs get wet? Then slow down your pace to minimize sweat and put on your rain pants. Hike through the rain if you don't think it will bother you. You can always toss on your rain pants if you get cold.
Features To Look For In Hiking Rain Pants
As I mentioned above, rain pants aren't designed to keep you completely dry. Their primary purpose is to keep you warm by conserving body heat, and blocking cold exterior moisture/wind. You can't completely eliminate sweat and condensation, but there are ways to minimize the problem.
Every pair of rain pants will block wind and keep out exterior moisture, but some options are better than others. A quality pair of rain pants will increase ventilation and help cut down on sweat/condensation. Consider the following features before choosing a pair of hiking rain pants.
Vents Offer More Flexibility: Every pair of rain pants have different levels of ventilation. Cheap rain pants supposedly use breathable fabrics (Frogg Toggs), but they won't be comfortable for long. It's worth spending the extra money on rain pants with full length zippers running up the legs. Vents keep you cooler, reducing sweat and condensation buildup, but they add 2-3 oz of weight to your pack.
Choose Adjustable Ankles and Baggy Openings: Look for pants with adjusters to tighten up around your boots/shoes. It's easier to put on rain pants with baggy openings since they go over your shoes, but hiking in baggy rain pants can be annoying so make sure they have adjusters.
Drawstring or Sewn-In: I might be in the minority, but I prefer the drawstring that wraps all the way around your hiking rain pants. Drawstrings last longer, plus they give you some cushion after losing or gaining weight. Elastic bands are more convenient, but the elastic will eventually start to fail.
Shoe Removal: Can you put on the pants without taking off your shoes? You don't want to take your shoes off on wet grass or muddy trails so find a pair of rain pants with large ankle openings.
Pockets: It might seem ridiculous, but cheap rain pants rarely have pockets. Look for rain pants with seam-sealed zippered pockets to hold your phone and other important gear.
Choose Side Zip Panels When Hiking In Rain Pants!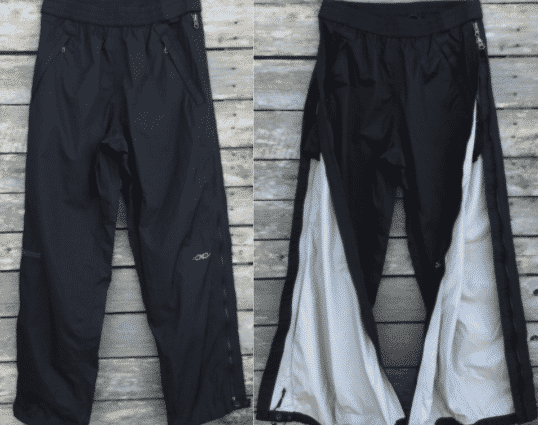 Every feature that you add to your rain pants will increase the price and weight of your pants. There's a fine line between price and comfort once you get into premium models. I couldn't stand the thought of spending $150 on a pair of rain pants, so I searched for a moderately priced pair of rain pants with all the features I need.
I carry Marmot's Precip Full Zip Pants (rain pants pictured above) and they're everything I could ask for in a pair of rain pants. They're the cheapest pair of full-zip pants I could find and I couldn't be happier. They might not be the lightest at 12 oz, but they're extremely comfortable for the price.
I really don't think it's necessary to buy expensive rain pants. They always end up getting trashed and they don't need to breathe as much as the top shell. With that being said, you will definitely be more comfortable spending the extra money to get side venting.
I wore a cheap pair of Frog Toggs Ultralight Rain Pants for years and they fit my budget. They don't have fancy features like ventilated zippers, but they're seriously cheap and weigh about 5oz. You will sweat like crazy on long hikes, but you can't find a pair of rain pants with side ventilation without spending $100.
Table Comparing Different Pairs Of Rain Pants
I recommend checking out the following table to compare the different brands of rain pants. I decided to sort them by my perceived value in relation to their price, weight, and zipper style. Remember that weights will vary depending on pant size and full-zip models will be a few oz heavier.
Just remember that it doesn't matter how much money you spend, you will still get wet. There's no way to completely eliminate sweat and condensation inside your rain gear. Staying completely dry is a losing battle on rainy days, so buy whatever fits your budget.
Table Comparing the weight, zipper length, and price of rain pants.
Alternatives to Rain Pants
Rain pants are great for keeping you warm in wet/windy weather, but you might prefer other options.
Rain Kilts: Rain kilts are a long waterproof skirt that goes over the top of your pants. It's basically a poncho that covers up your legs. They keep out water while allowing air to flow in, but they don't offer protection against wind.
Rain Chaps: Rain chaps run up your legs stopping just below the butt, but they offer excellent ventilation. These are basically just long gaiters that block the water in tall wet grass, but they are a close alternative to hiking in rain pants.
Ponchos: I almost always carry a cheap poncho to throw over my clothes. Ponchos can be annoying in wind, but they provide excellent airflow so you won't sweat. A cheap Frog Toggs Poncho will get you through 99% of storms, but even $2-$3 disposable ponchos are better than nothing. I don't carry my rain gear in warm mild weather, but I keep a cheap disposable poncho (these ponchos) in my first-aid kit to use in emergencies.
Waterproof Gaiters: Think about the part of your hiking pants that absorb 99% of water. It takes a lot of rain to soak your thighs, but the bottom 6-12 inches of your pants will get soaked as you walk through wet grass. That's when waterproof gaiters come in handy! They keep your ankles and socks dry without making the rest of your legs sweat.
You Might Want to Try Wind Pants
Wind pants are a great alternative to dedicated rain gear when you're not expecting rain. Wind can have a similar effect to rain, since it can quickly strip heat away from your body (Strong Wind=Cold Body).
They're not entirely waterproof, but they're made out of water-resistant fabrics (nylon/polyester blends). So you get 90% of the water-resistance without the sweat and condensation. Wind pants paired with a moisture-wicking hiking pants are a great combo in light/moderate rain, but I would carry a disposable poncho just in case the rain picks up.