The first time I tried on rain pants at the store I didn't know how to wear them. I went into the dressing room, stripped down, and tried them on like regular old pants. It never even crossed my mind that there could be another way to wear them. How do you wear rain pants?
Do rain pants go over regular pants? Yes, most people wear rain pants over their regular hiking pants. Rain pants don't have enough ventilation to be worn alone(lots of sweat). You put them on as a last resort to prevent heat loss.
My rain pants only come out of my pack in a serious storm. They don't have enough ventilation to be worn by themselves. You get ridiculously sweaty, condensation builds up, and they slow you down.
In this article, I will explain how to wear rain pants and help you decide whether or not you should wear them at all.
Why Do Rain Pants Go Over Regular Hiking Pants?
Have you ever tried on rain pants? They're hot, poorly ventilated and ridiculously uncomfortable. Expensive rain suits with full-length zippers help some, but I still wouldn't want to wear them all day long.
If you want to keep your pants dry just use a cheap poncho or rain kilt. I've had the same Frogg Toggs Ultralight poncho in my pack for years. They're cheap and you won't end up sweating like a hog. Rain kilts work better better in the wind, but they don't protect your upper body.
Rain pants aren't designed to keep you dry. You'll be soaked in sweat within 5-10 minutes, plus you have to deal with condensation. Rain pants trap body heat, reduce outside moisture, and cut-down wind. This makes a huge difference in cold weather.
How Should I Wear Them?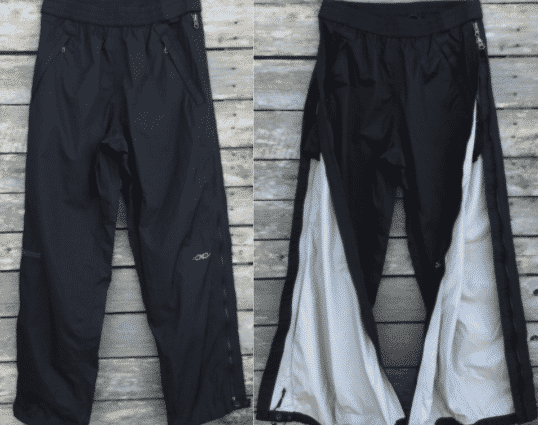 I don't like to wear rain pants until it really starts to rain. Do you need rain pants for backpacking? Honestly, it depends on the temperature and how you deal with the cold. They're not necessary 99% of the time, but that last 1% is a serious killer.
Try to find a pair that offers a full length zipper. The following table compares the weight, price and zipper style of the most popular gear. I think the Marmot Precip Full Zip Pants (pictured above) offer the most bang for your buck. They're not the lightest (12oz) but they're the cheapest full-length zippered pants on the market.
You really don't have to spend a lot of money on rain pants. They always end up getting ripped and destroyed. Frog Togg's Ultralight Rain Pants are good enough for most people. They don't have any ventilation, but they're ridiculously cheap.
I like to delay putting on my rain pants until my thighs start to get really wet. You start to feel cold and need to work on conserving body heat. In warm weather, you might not need to wear them at all.
Putting them on early doesn't help at all. Your pants end up soaked in sweat instead of rain.
Make sure the rain gear is easy to grab at the top of your pack. You want to get in and out fast so your gear doesn't get wet. This is a great time to mention the difference between pack liners and rain covers. Line your pack with a composter bag along with using a rain cover.
Just step into your rain pants and get back to hiking. Make sure the bottoms of your rain pants are big enough to step inside without taking off your shoes/boots.
Can They Be Worn Without Pants?
I've talked to a few different people that claim to wear rain pants in place of regular hiking pants. Honestly, I don't if they're stupid, exaggerating or lying their butts off.
I just don't see how it could be possible to wear them without pants. You could technically, but it would unbearably hot. Your just trading guaranteed sweat/condensation so you don't get wet in the rain. It just doesn't make sense!
Plus you wouldn't be able to unzip the sides without looking like a creep. You would be better off wearing a waterproof kilt or poncho. At least that way you wouldn't end up covered in sweat.
Some People Don't Use Rain Pants at All
There are lots of areas where rain pants really aren't needed. It all depends on the temperature and likelihood of rain.
You really don't need rain pants in warmer climates. Just protect your upper body with a rain jacket and leave your legs bare. Your pack and belly should block most of the rain.