I'm not what most people would consider a morning person. I wake up early for work during the week, but that's the last thing I want to do on the weekends. It can be hard to sleep in when the sun comes out at 5am during the summer, but there are a few ways to solve that issue. So how do you black out a tent?
If you don't like wearing a sleep mask at night, you can line the inside of your tent with a blackout liner. Blackout liners are basically just a dark ventilated sheet that you attach to the inside of your tent or outside just under your rainfly. You can also hang tarps over your tent, use shade, choose dark color tents, reflective blankets, angle your tent away from the sun, and choose tents with darkroom features.
Some people like waking up early, but that's not my style of camping. When I'm camping with friends, I'm a party all night, and wake up at noon kind of guy. In the rest of this post, I'll teach you how to black out the inside of your tent so you don't have to wake up at the first sign of sunlight.
How To Blackout A Tent
There are 4 primary approaches you can take to blackout an existing tent: line the inside/outide of your tent with blackout material, utilize shade, choose a light blocking tent, or wear a blackout sleep mask. You can approach each of these tasks in different ways, which I'll go over in the rest of this post.
Using a sleep mask to block sunlight
Line the inside of your tent with a blackout liner
Drape a dark tarp over your rainfly
Find a shady spot under trees, next to tall structures, cars, etc.
Hang a tarp over your tent to create a shaded patio space. This is also helpful in the rain and for drying wet gear.
Position your tent so the door/windows face away from the sun
Use dark colored tents and tents with specialized "Dark Room" fabrics
The method you choose will depend on what you want to achieve. I prefer hanging a tarp over my tent since it also creates a dry spot for the rain, but any of the above methods will work. Creating shade also helps keep your tent cool in unusually hot weather.
---
Benefits Of Blacking Out A Tent
There are pros and cons with everything we do in life. The list of advantages to blacking out a tent, far outweigh the problems, but you need to keep them in mind. Let's start out with the advantages of blacking out a tent.
Your tent will be darker for a better nights sleep. No more waking up at the buttcrack of dawn, when the sun comes up.
There's more privacy in crowded campgrounds.
Optimizing shade will keep you cooler on hot mornings. If it's 80°F outside a tent can get unbearably hot in the morning. Shade won't keep you completely cool, but it will definitely help.
Drawbacks To Blacking Out A Tent
I love sleeping blacking out my tents, so I can sleep in, but there are a few downsides to blacking out a tent.
Blackout liners may increase the temperatures inside your tent.
May cause condensation issues in poorly ventilated tents.
Adds weight to your gear setup. It's usually less than 1lb, but it will lead to extra pack weight in lightweight/ultralight setups.
---
1) Wear A Blackout Eye Mask While Sleeping (won't help with heat)
Pros:
Blocks Out Sunlight
Lightweight and Easy To Pack
Won't affect ventilation which can cause heat and condensation issues.
Cons:
Can only be used by one person
Your tent will heat up fast once the sun comes out.
Feels disorienting if you're not to a sleep mask.
Wearing a sleep mask won't black out your tent, but it will help you sleep on bright sunny mornings. This is the only way to completely guarantee a dark atmosphere if you're overly sensitive to light. All of the other options on this list will help a lot, but it won't be as dark as wearing a sleep mask.
I have a cheap sleep mask that I keep in my pack. You can buy a sleep mask on Amazon for a few bucks. So this is a cheap and easy way to get a few extra hours of sleep in the morning. If you don't have a sleep mask, you can pull a buff, bandana, etc. or the hood of your sleeping bag over your eyes.
There is a major downside to wearing a sleep mask! It will keep the sun out of your eyes in the morning, but it won't help with heat on hot mornings. It doesn't take long for a tent to heat up in the morning. So I recommend combining shade with a sleep mask on ridiculously hot days.
2) Drape A Dark Camping Tarp Over Your Rainfly
Pros:
Easy to setup
Will completely black out your tent.
Cons:
Increases temperature inside your tent
Increases the risk of condensation issues.
You can drape a dark camping tarp over your rainfly for a cheap and easy blackout shade. Any type of dark tarp will work, but I recommend buying a dedicated camping tarp. They're much lighter and easier to fold into a compact package. My cheap Redcamp Tarp folds down into a tiny bag that fits in the palm of my hand.
Draping a tarp over your rainfly is easy! Just lay it over your tent, attach guy lines to each corner, pull it away from the tent rainfly, and stake it down. Laying a tarp over your tent will negatively effect ventilation. So try to get it as far away from your rainfly as possible to reduce the risk of condensation.
I've also seen people attach the tarp underneath their rainfly, but that's a guaranteed way to get condensation. There's no way to completely eliminate moisture inside a tent and cutting off ventilation will make condensation issues 10x worse.
3) Line The Inside Of Your Tent With Blackout Cloth
Pros:
Will completely black out the inside of your tent.
Cons:
Need to carry mesh blackout cloth and hang it in your tent.
Increases the temperature inside your tent
Reduces the overall floorspace inside your tent
Using a blackout liner on the inside of your tent is another way to black out a tent, but it can cause heat/condensation issues in hot weather. This is basically like hanging blackout curtains in your windows. It covers the outside walls in a dark fabric that blocks sunlight.
Head over to Amazon to pickup mesh shade block tarp. Just attach the blackout cloth to the ceiling of your tent and drape it around the edges. You can also set up the mesh cloth between the outside of your tent and the rainfly. This is the easiest approach, but you will need to dry the mesh cloth out at the end of your camping trip to prevent mold/mildew buildup.
You can get by with a dark sheet on colder days, but you'll need a shade net in hot weather. The only problem with this approach is that it will affect the ventilation inside your tent. The inside of your tent will get crazy hot if you use any kind of moisture barrier or thick fabric to block sunlight. Temperatures will raise fast, which will lead to uncontrollable condensation issues.
4) Find Some Shade (Trees, Tall Structures, Cars, etc.)
Pros:
No extra steps required to setup camp
Reduces the temperature inside your tent
Cons:
Won't completely black out the tent
Pay attention to potential falling objects
This won't completely block out sunlight, but you can utilize shade to cut down sunlight in the mornings. I usually try to setup my tent in a shaded spot under trees, or next to my car if I'm staying in a public campground.
You need to look up into the tree canopy before setting up a tent under trees. Keep an eye out for dead or loose branches, fruits, acorns, etc. that could fall down at night. I go over setting up a tent under trees in detail in another post (Should you pitch a tent under trees).
If there's any chance of thunder/lightning avoid pitching your tent under solitary trees or at the edge of a forest. This will probably sound crazy, but the safest place to camp in a thunderstorm is deep in a forest. The tree canopy is like a solitary high/low point so there's no single spot for lightning to strike.
Are tents safe in a thunderstorm?
Remember that the sun rises due east. So setup your tent on the west side of whatever you're using for shade. I try to utilize tree cover, but that's not always possible in designated campsites. Try setting up your tent west of your car so you'll have a few extra hours of shade. It will probably get bright at 8:30-9:00am, but that's better than 5:00am.
5) Hang A Tarp Over Your Tent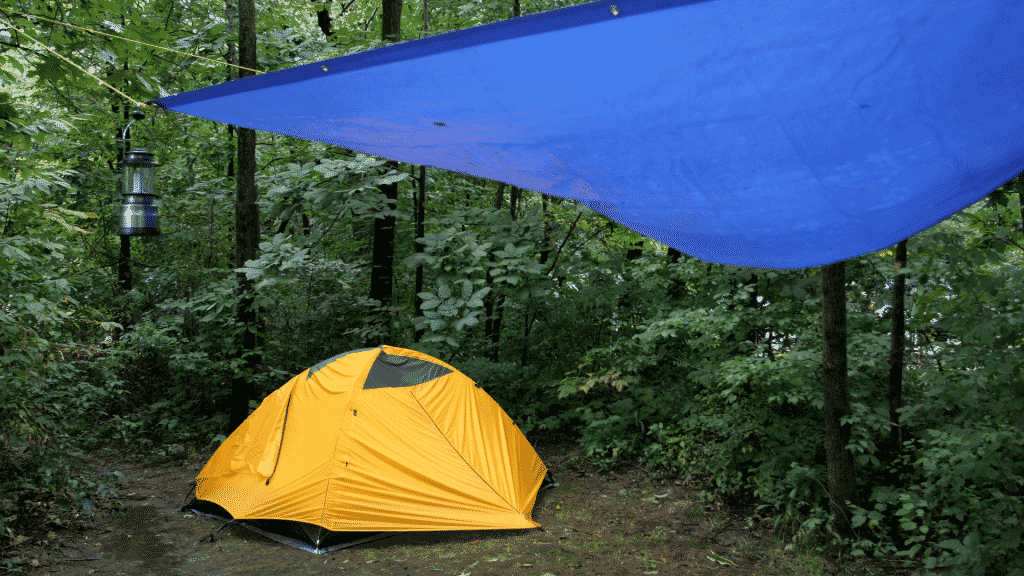 Pros:
Creates a shaded space that you can place your tent inside
Reduces the temperature inside your tent
Cons:
Won't completely block out light
Requires an camping tarp which adds weight to your pack
You need to setup your tent near trees
Hanging up a tarp over your tent is a little bit harder than draping one over the rainfly, but it's worth the extra effort. You have a place to hangout in the rain, a shaded spot to hangout on sunny days, and it's an easy place to hang wet clothes to dry.
This option won't completely black out your tent, but it helps a lot. Just try to position your tarp to maximize shade on sunny mornings. Suspend a single guy line across 2 trees, suspend the tarp over the center of the line, and stake down each corner using additional guy lines.
How to setup a camping tarp without trees
The entire setup process takes less than 5 minutes. I use a cheap Redcamp tarp whenever I go camping. Make a small patio area east of your tent and hang the tarp halfway over the tent. You should have shade until at least 10am with this kind of setup.
6) Position Your Tent With Doors/Windows Away From The Sun
Pros:
Easy setup without added costs
Cons:
Won't completely block out sunlight
Cheap tents get around the ventilation issues by adding large side windows and doors. Closing those windows will help keep sunlight out of your tent, but it can quickly lead to excessive heat and condensation.
You can't completely close the windows, so position the tent so open doors/windows are pointed away from the sun in the morning. Close your east facing windows and open up all the other doors/windows to improve ventilation.
7) Choose A Dark Colored Tent Or One With "Room Darkening" Technology
Pros:
Naturally blocks out sunlight
You can setup the tent anywhere without needing added shade.
Cons:
Requires the purchase of a light blocking tent.
Usually increases the temperature inside your tent.
Some tents are designed with "Room Darkening" technology. This is just a fancy term for using dark colored fabrics that reduce light. Any dark fabric tent will reduce the amount of light that gets inside your tent. Look for dark green/blue tents that naturally block out sunlight.
Choosing a dark colored tent is great at blocking out sunlight, but it will absorb sunlight on hot summer days. Make sure you choose a well ventilated double wall tent with large mesh side wall/roof panels. This should help keep temperatures down on hot mornings.