Daypack capacities vary greatly. Before picking out a pack, try to think of how much gear you usually carry and what activities you want to perform. What is a good size for a day pack?
A 20-35 liter pack is the perfect size daypack for most hikers. It's big enough to hold extra clothing, food, and all the essentials. Bump it up to 40L if you plan on using the same pack for 2-3 day weekend trips.
At first glance, most daypacks look the same, but a slight change in size can make a world of difference. In the rest of this article I'll help you choose the right size daypack for your needs.
What Size Should a Daypack Be?
Finding a one-size-fits-all daypack is easier said than done. My basic climbing backpack is completely different than my casual hiking pack. You need to fit the pack to your individual needs. So what size pack should I get?
I recommend getting the smallest pack you can get away with. Think about how much you normally carry on a short dayhike. All you really need is food, water, a light jacket, and a few other essentials. That can easily fit in a 20L pack with room to spare.
Going with a larger pack will lead to carrying a bunch of unnecessary junk. You might need a bigger pack if you have kids or go on long winter hikes.
How is Backpack Volume Measured?
Most backpack manufacturers measure the volume of their packs by adding up the total volume of the closed storage. They add up the internal storage and all the external closed pockets.
Be careful when comparing two packs side by side. There's no set way to measure pack volume. Cheap packs tend to exaggerate their capacity to compete with major brands.
They count exterior storage and useless clips/pockets. Some manufacturers even include water bottle pockets and the mesh/bungee pockets. This can make it really hard to compare packs.
Trust your gut! If one pack looks like it can carry more gear it probably can. You might need to contact the manufacturer if you have any questions.
20-35 Liters is The Sweet Spot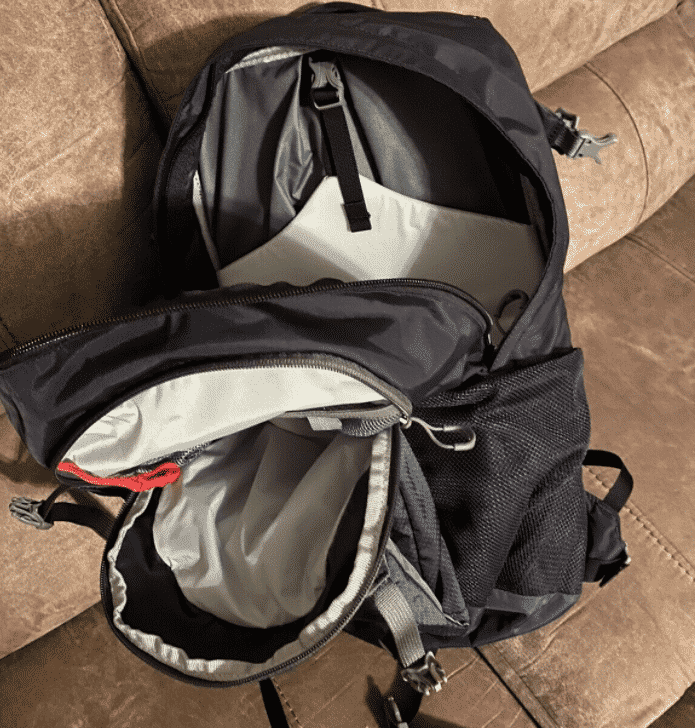 The vast majority of people should purchase a 20-35 Liter day pack. For general hiking I would go with a 20 liter pack. It's big enough to carry all the essentials, a light jacket, food/water, etc. For overnight/weekend trips you'll need a larger 35+ Liter pack.
I usually carry a 20L Osprey Daylite Plus Daypack on most long day hikes. It's lightweight and big enough to carry everything I could possibly need on a day hike. Plus it has an external hydration pocket to add a Camelbak Bladder.
A larger 35-40 Liter pack is better for overnight and weekend trips. I actually use a Osprey 40 Liter Travel Backpack as my carry on for flights. It's a little big for single day hikes, but you can always carry less gear.
10-20 Liter Packs For The Lightweight Crowd
A 10-20 Liter pack will carry almost everything you need on a day hike, but you'll need to take a lightweight approach.
I have a 10 Liter Camelbak M.U.L.E. Pack that I take when I go biking and short hikes. You can fit a 100 oz water reservoir, lunch, wallet/phone, and light jacket. That's all I really need for the day.
Under 10 Liter Day Packs
Going under 10 Liters takes you into Trail Running and Lumbar Pack Territory. Committing to an under 10 Liter pack sets you on the minimalist lifestyle.
You can't expect much from a pack this size. All you're going to get is a light snack, light rain jacket, and hydration reservoir (maybe). Don't expect to fit much more than that.
Set a Pack Weight Limit
I usually set a 15lb weight limit for my day pack (20 lbs with kids). Setting a weight limit is extremely important when carrying an oversized pack. The following guidelines should help you set a pack weight limit.
A loaded day pack shouldn't weigh more than 10 percent of your body weight. So if you weigh 200 lbs set a 20lb pack limit for day hiking.
On longer trips you can get away with carrying 20 percent of your body weight. Trust me, you won't want to carry more than 35-40 lbs of gear anyway.
Keeping your pack at a manageable weight takes stress off your joints. It will make you way more comfortable on a long hike.
Keep in mind that these recommendations don't work for everybody. You can only get your pack weight so low on longer hikes. Bigger guys might want to carry less than and smaller people may have to carry more.