Reserving a campsite should be easy, but it's often a recipe in frustration. While it might be easy to book a site in your local campground National Parks tend to be booked months in advance.  If you're camping outside the regular peak season or trying to get into a popular park you'll have to deal with walk-up campsites.
Leave it to the government to take a simple booking process and make it overly complicated.  All national parks sites are reserved through the online booking system called the National Park Reservation System.  
Seems like a great idea, but complications arise when trying to keep consistent language through thousands of parks.  National Parks all across the country use the same scheduling language which is a good thing, but the same question always seems to come up.  What is a Walk-Up Campsite?
What is a Walk-Up Campsite? Walk up campsites are sold on a first-come first-serve basis. Just show up to the campground/park, ask if they have any spots available and hope for the best. Show up early and try to avoid busy holiday weekends.
What Is a Walk Up Campsite? How Do They Work?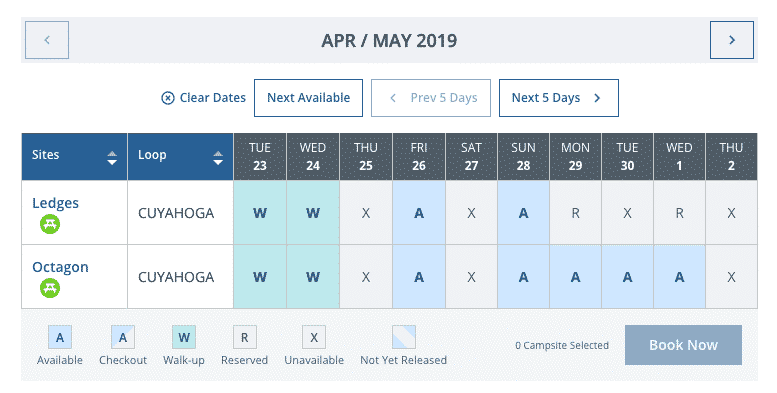 So you're trying to book a campsite on the National Reservation System and you can't seem to book anything. The calendar is lined with W's for the foreseeable future. This means that the sites can only be booked on a walk-up basis. So what is a walk-up campsite?
All this means is that you won't be able to reserve a site before the day of your trip. Just show up early and hope they have a spot to reserve. Walk-up campsites are reserved on a first-come, first-served basis.
Walk-Up Sites:  Walk-up sites can't be booked prior to your trip.  They are given away on a first-come-first-serve basis.  So if you want to get into a walk-up site you'll have to get there early.
Don't Be Fooled By Walk-in Sites
Walk-in sites are completely different than walk-up sites. So try not to get confused by the similar naming system.
Some campgrounds have campsites that are off the beaten path. You can't just pull up your car and park, you'll have to walk a short distance to your site.
As the name implies a walk-in site means you'll have a short walk to your campsite. These sites might not have established walking paths and may or may not need reservations.
Why Aren't There Any Reservations?
You can only reserve a campsite during the busiest months of the year, but that doesn't mean you can't go camping during off months.  During the off-season sites are only sold on a walk-up basis.
Just show up early and ask for a campsite.  You just have to hope for the best and get there before all the sites are sold out.  
Snagging Last Minute Campsites
Trying to book a campsite during the summer camping sites is easier said than done.  Campers book sites in popular parks months in advance. If you're like me and always wait until the last minute you're out of luck.  
Don't worry! There's still a chance for you to go camping if you forgot to book a campsite. When all the sites are booked up you're out of luck, but you might see a few last minute walk-up sites available.
Since the booking system covers 1000's of National Parks there's a slight delay when reserving spots. It takes about 4 days for reservations to get processed so any spot left over during this window becomes a walk-up site.
If you try to book a date within a couple days of your trip you might notice walk-up sites available. You probably aren't going to find a walk-up spot on a busy holiday weekend, but during the week there may be a few sites available.
FAQ About Walk Up Campsites
What is a Walk-Up Campsite?
This just means that the campsite can't be reserved ahead of time and it's reserved on a first-come,first-serve basis.
What's The Difference Between a Walk in and Walk Up Campsite?
Walk in campsites (aka Hike in) don't have drive in access. Since you can't bring your car back to the campsite you have to hike in and carry all your gear.
How Do Walk-Up Campsites Work?
Just show up to the park early and ask if they have any spots. On busy weekends try to arrive a few hours before they open. Unfortunately this means that spots may or may not be available for the day so arrive early and take what you can get.
How Can I Camp Without Reservations?
If you don't have reservations call to see if any walk-up campsites are available. Sometimes campgrounds reserve a few extra spots for last minute walk-up customers and oversized rigs.

You definitely want to stay close to home just in case you can't find a spot. Arrive a few hours early to see if you can sneak into a last minute walk-up site.
What Does Walk Up Season Mean?
This just means that you can't make reservations outside of the peak months. Since the park is usually empty during the walk up season, there's no need to make reservations. Just walk up and pick any site you want.
Walk-Up Camping Tips to Get a Last Minute Site
If you're a procrastinator like me you'll probably forget to make reservations months in advance. Don't worry you can still find a campsite if you follow these tips.
1) Show Up Early
You aren't going to find a spot if you roll up to the campground late in the day. Show up to the campground early so you can book a site right as the previous guest leave.
On busy weekends most walk-up spots are going to sell out before lunch so you'll have to get there early.
Campgrounds normally have a 10-11am checkout just like any other hotel. If you get in line by 9:30-10:00am you should get a spot as the previous nights guests leave.
Since all walk up sites are given out on a first-come-first-serve basis you want to be the first person in line.
2) Be Flexible With Your Plans
You can't expect a prime campsite when you show up at the last minute. If you're trying to get a walk-up campsite you're going to need to be flexible.
When that site opens up next to the port-a-johns you better take it because it might be the only site that becomes available. You have to be flexible with your plans and accept the first spot that's given to you.
Understand that you aren't going to get the perfect spot and may have to walk farther than normal.
3) Be Ready to Try Another Campground
Don't expect to get a site in popular parks during peak season. Make sure you have a backup plan just in case you can't get a spot. There's always a park close by begging for a few more campers.