You don't have to be uncomfortable while camping in a tent. Choosing the right sleep system is 90% of the battle, but you still need to find comfortable sleeping clothes. Is it better to strip down do to your underwear (or naked) or should you bring comfortable sleeping clothes like pajamas, sweatpants, or gym shorts?
What should you wear to bed while camping in a tent? You should wear comfortable sleeping clothes while camping or backpacking. A pair of gym shorts and a t-shirt is great in the summer, but you'll want warmer sleeping clothes in the winter. On cold nights, I recommend carrying a pair of lightweight pajamas, sweatpants, or thermal long johns and a comfortable long sleeve base layer or light jacket (optional: winter hat and mittens).
A handful of people recommend stripping down naked or sleeping in underwear to increase sleeping bag warmth, but that's a myth. It's fine in the summer, but it will always be warmer to layer your clothing. Wearing clothes is an additional layer separating your body from the cold air outside your sleeping bag.
In the rest of this post I'll go explain what you should wear to bed while camping, explain layering clothing, and teach you other ways improve your sleep system to stay warm on cold nights.
What To Wear To Bed While Camping In A Tent: What Clothes Should You Sleep In When Camping?
Picture the perfect camping trip in your mind! Tossing and turning in your sleep, struggling to stay warm, isn't my idea of an enjoyable camping trip. Choosing the right tent, sleeping bag, pad, and liner will get you 75% of the way to a warm nights sleep, but your sleeping clothes can make or break your sleep system.
Figuring out sleeping clothes to wear while tent camping will depend on the season. You need to stay cool in the summer to avoid excessive sweating and layer up with warm clothes on cold nights to increase warmth. So, what do you wear to bed when camping in a tent?
Base Layer Shirt: I normally go shirtless in the summer, T-Shirt in the spring/fall, and wear a merino wool thermal shirt on colder nights. Merino Tech Merino Wool Baselayers are affordable thermal shirts and they're extremely comfortable. Smartwool shirts are a little bit warmer, but almost twice the price!
Comfortable Pants or Shorts: Wear lightweight gym shorts in warm weather and long johns, pajama pants, or sweatpants in cold weather. I like to wear my merino wool long johns under a pair of sweat pants on chilly nights. You may even want to wear lightweight snow pants over your base layer in the winter.
Merino Wool Socks: Sleeping bags provide consistent insulation throughout the bag, but most of your body heat is released through your torso. That means the center of your bag will be warm and it will get colder as you go farther down the bag. Wearing a pair of merino wool socks to bed will keep your feet warm evening out the temperature extremes in your bag.
Light Jacket or Sweater (Cold Weather): You may want to put on a light jacket or sweater to keep your chest warm in cold weather. This isn't necessary with a sleeping bag that's rated for extreme temps, but it will really help if nighttime temps are nearing your bags rating. I carry a lightweight fleece jacket to wear at night, but a down puffer jacket (like this one) will keep you warmer at a similar trail weight. Feel free to layer up multiple jackets, but try not to contract the outside baffles on your sleeping bag.
Winter Hat (Cold Weather): Your head won't be protected in a sleeping bag so it's important to wear a winter stocking cap on cold winter nights. Sleeping bag hoods provide some warmth while blocking the wind, but you should really consider wearing winter hat to bed in the cold.
Mittens Optional (Cold Weather): There's less blood circulating through your hands and feet so they'll get colder than the rest of your body. I have a hard time sleeping in mittens, but a lot of cold weather campers wear them to bed. They'll definitely help keep your hands warm so it's worth considering.
In a perfect world, you could bring multiple pairs of camping pajamas for a wide range of sleeping conditions. Unfortunately, backpackers need to take pack/trail weight into consideration and you can't bring multiple sets of dedicated pajamas for drastic temperature changes. I'll explain how to cut your sleeping clothes weight below, but let's start off with finding lightweight camping pajamas.
This is a long post so you might want to skip around to my sections on sleeping clothes for different seasons, layering clothing in your sleeping bag, and choosing the right sleep system (sleeping bag, pad, liner, tent, etc.).
---
Finding Lightweight Pajamas For Camping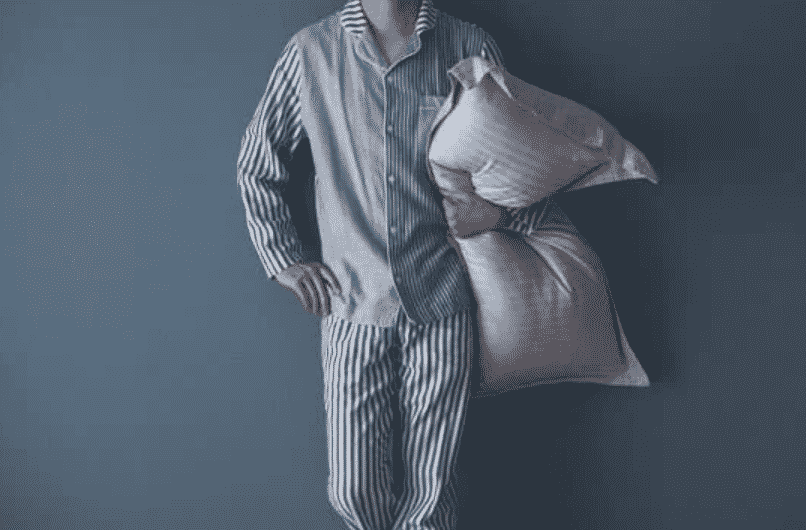 There are 4 things to consider when choosing camping pajamas. What season are you camping (temperature/weather)? How much weight can you carry in your pack? What's the rating on your sleeping bag, sleeping pad, and tent? Do you have personal preferences that would effect your camping pajamas?
All of those factors play an important role when it comes to choosing camping pajamas. There's no excuse for being cold and uncomfortable in a tent. With the right sleep system setup and comfortable camping pajamas you can be downright cozy sleeping in a tent. How do you choose lightweight camping pajamas?
Start off by looking at the expected nighttime temperatures. On hot summer nights you'll want to dress down to stay cool and avoid excess sweating. I recommend lightweight gym shorts and a t-shirt or strip down to your underwear.
Chilly spring/fall nights and winter will require layering clothing to stay warm. Go with breathable merino wool long johns, sweatpants, fleece pajamas, and a long sleeve base layer or light comfortable jacket. Down and fleece jackets are great options for cold winter nights.
You can pack multiple options if you're camping in a campground near your car, but you'll have to narrow down your choices on a remote backpacking trip. I'll go over all of the above factors in this section, but lets start off with choosing the right sleep system for different temperature ranges.
Choosing the right sleep system will give wiggle room to play around with your sleeping clothes. If you already have your sleep system picked out you can skip down to whichever season you plan on camping in for more information on seasonal camping pajamas.
Sleep In Camping Pajamas That Serve Multiple Purposes While Backpacking
I highly recommend finding camping pajamas that serve multiple jobs if you're limited on pack weight. Wear the same thing to bed that you plan on wearing the following day to hike. This tactic will keep your weight down while keeping sweat and grime out of your bag.
You can cut your pack weight by wearing the following days hiking clothes to bed. Try to wear comfortable clothes that you can hike in the following day. Sleep clean and hike dirty. This mindset will help minimize the amount of weight in your pack.
I'll stick to boxer briefs, gym shorts, and a T-Shirt in the summer and wear my long johns that I use as a base layer in colder months. I prefer sleeping in merino wool underwear (Smartwool Underwear) and base layers (Smartwool Base Layers).
Synthetic moisture wicking base layers work, but merino wool is so much better. Merino wool wicks away moisture, is extremely comfortable, won't smell for days of wear, prevents blisters/chafing, and is comfortable in cold and hot weather.
You can wear the same wool clothing for days without washing and use the same clothes all year long. Plus wool can absorb 35% of its weight without feeling wet so you'll never feel sweaty.
---
Picking A Sleeping Bag, Tent, Pad and Sleeping Bag Liner (Optional)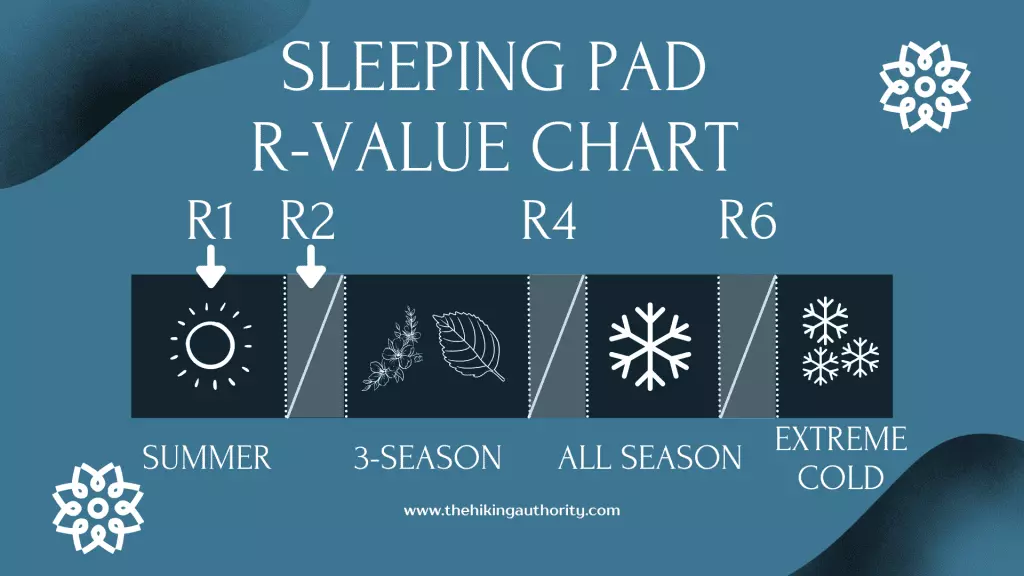 Choosing the right tent and sleep system is 75% of the battle. Camping pajamas are only used to add additional insulation in cold weather or keep you cool in the summer. So how do you narrow down your sleep system to stay comfortable at night?
Tent: In the spring/fall/summer you should go with a 3-Season tent. Most tents that are sold are 3-Season compatible, and designed to improve ventilation in the summer. A 3-Season will be 5°F warmer than the outside air, but blocking wind/water is the tents primary goal. Once the temperature drops below 32°F and snow starts to fall you should switch over to a winter tent (10°-15°F Warmer). Winter tents are also designed to handle additional snow load.
Sleeping Bag: Choose your sleeping bag based on the temperature rating, weight, and price. Down sleeping bags will be lighter than synthetic filled bags, but two bags with the same temperature rating will have similar warmth. Go with a sleeping bag that's 15°F warmer than expected nighttime temperatures. You can pad the bags rating with a high quality sleeping bag liner and by wearing additional layers to bed. Most people should go with a 40°F sleeping bag and use a high quality liner (like this one) to increase the bags temperature rating in cold weather.
Sleeping Pad: Sleeping pads make add cushioning to your sleep system, but the primary purposes is insulating your body from the cold ground by slowing down body heat loss. Look at the R-Value chart above before picking a sleeping pad. A sleeping pad's R-Value tells you how much insulation is in the pad. Your sleeping pad will keep you warm in colder temperatures as you increase R-Value. Stacking foam and inflating sleeping pads will allow you to use a lower R-Value pad in cold weather.
Sleeping Bag Liner: Your sleeping bag liner serves 2 purposes. It protects your bag from sweat, dirt, body oils, blood, etc. and increases your sleeping bags warmth. My Sea To Summit Thermolite Liner adds 25°F to my bags temperature rating and even a cheap Coleman Liner adds 12°F of warmth to your bag. They also reduce the frequency that you need to wash your sleeping bag. Every wash cycle compacts your bags insulation reducing the effectiveness of the fill.
---
What To Wear To Bed Camping In The Summer: Camping In Hot Weather
In the heat of summer, your primary goal is staying cool and reducing sweat buildup. The average person sweats 2 liters of water per night, and up to 4-5 liters if you're hot. That's a lot of sweat that will soak into your sleeping bag, which is why you should use a liner to protect the bag.
It can be hard to replace all that lost water and electrolytes in the morning. You can slowly replace it during the day, but you'll be sweating even more if you're backpacking and need to continue hiking down the trail. This can lead to cramping and dehydration if you're not careful.
Sea To Summit's Coolmax Liner is a great option for protecting your sleeping bag on hot muggy summer nights. I like to use my Thermolite Liner instead of a sleeping bag in the summer. It's much lighter than my sleeping bag and can be used down to 50°F nights.
Using a well ventilated tent will also help, but you need to plan your summer camping pajamas around reducing sweat. I recommend wearing either a pair of gym shorts to and a moisture-wicking t-shirt to bed or stripping down to your underwear.
I'm always dealing with chafing issues between my thighs so I prefer merino wool underwear (Smartwool Underwear), because it doesn't absorb moisture. Merino wool doesn't absorb sweat and has antimicrobial properties so it won't smell.
You can wear the same pair of merino wool underwear for days without washing it. I still like to carry a backup pair so I'm able to wash them every 2-3 days on long backpacking trips, but it's up to you. Just rub them down with biodegradable Campsuds Soap and hang them up in the sun for 30 minutes to dry.
---
What To Wear To Bed Camping In The Spring and Fall: Camping In Chilly Weather
Planning out camping pajamas in the spring and fall can be tricky. Early spring and late fall can be chilly, but you may also have to deal with hot summer temperatures. This also complicates narrowing down your sleep system.
You will have to plan your camping pajamas around the weather and you may want to use a sleeping bag liner to increase the versatility of your sleep system. The Sea To Summit Thermolite Liner adds 25°F to your sleeping bags temperature rating making it the perfect choice.
On warm nights I'll unzip the sides of my sleeping bag to regulate the temperature by letting in a draft or ditch the liner only using my bag. On cold nights I'll zip up the bag and wear insulating layers to increase warmth. So what should you wear to bed camping in the spring and fall?
I recommend wearing fleece pajamas, sweatpants, or thermal long johns, and a long sleeve base layer or light fleece jacket to bed. You should also consider wearing merino wool socks (Smartwool Socks) to keep your feet warm.
---
What To Wear To Bed Camping In Winter: Camping In The Cold
A well thought out sleep system will limit the amount of layers you need to wear to bed, but you should still plan on layering your camping pajamas to pad your sleeping bags temperature rating. Think about your winter sleeping clothes the same way you'd plan your usual winter clothing.
Here's a simple breakdown that explains how to layer clothing in cold weather. Focus on wearing a base layer, middle insulating layer, and exterior shell layer.
Base Layer: In the summer, your base layer will usually be underwear, gym shorts, and a t-shirt. Your sleeping bag provides plenty of insulation so you don't need to wear a middle insulating layer or outer layer. On cold nights you'll want to wear long johns, pajama pants, or sweatpants and long sleeve shirt like a merino wool base layer. I usually merino wool long johns (these ones), sweatpants, merino wool socks (Smartwool Socks), and a long sleeve merino wool shirt (my favorite).
Middle Layer(insulation): The middle layer is used as the insulating layer. Most people wear either a fleece jacket or light down/synthetic jacket and a winter hat. I like to wear a hood, but that's uncomfortable for some people. If you're insulating layer is comfortable to wear on its own during the daytime temperatures it should be perfect at night. You can also wear snow pants if your legs get cold easily.
Outer Layer (Shell Layer): I highly doubt you'll need to wear an outdoor shell layer in a sleeping bag. It won't hurt on extremely cold nights, but the outer layer is mostly for wind/water protection. Your tent and sleeping bag provide enough protection from the outside weather so you should be fine without a shell layer.
There's no reason to be cold in your sleeping bag if you follow those layering techniques. If you're cold that usually means there's an issue with your sleep system. Looking over the temperature ratings and R-Values of all your gear should give you an idea of why you're cold.
---
A Few More Camping Pajama Tips
Choosing your camping sleepwear really isn't all that difficult. It all boils down to planning for the weather and trying to stay comfortable. That being said there are a few more things you should keep in mind when planning your trip.
Separate Cooking Clothes: Store all your food and anything you cook in away from your campsite. Bears, raccoons and rodents will all be going after your food throughout the night. Don't wear something to bed that's covered in bacon grease. You should definitely buy a bear bag or canister and learn how to use it. (Bear Vault Canister)
Strip Out of Wet Clothes: Moisture will quickly wreak havoc on your sleeping bag. Moisture compresses the down/synthetic fibers and reduces its insulation layer. Strip out of your sweaty clothes and sleep in clean underwear/shirts. A bag liner (like this one) will help extend the life of your sleeping bag. Check out my post on drying camping clothes.
Know When to Layer: You have no excuse for being cold throughout the night. Cold nights just mean you aren't wearing enough layers. I always throw one of those fleece columbia jackets into my bag because they're lightweight and soft/fluffy to sleep in.
Keep Extra Layers Closeby: If you're camping in cold weather keep your following days clothing nearby. Get cold throughout the night and you can quickly toss them on. You can even toss them into the bottom of your bag to get warmed up if you're on the short side.
Avoid Overdressing: Remember that sleeping bags are designed to trap in body heat. If you wear to many layers to bed you'll end up sweaty and miserable. I like to use my sleeping bags zipper to regulate the temperature throughout the night, unzipping whenever I get too warm.
Other Ways To Increase Sleep Quality On A Camping Trip
Use a Sleeping Pad/Pillow: Sleeping pads and pillows aren't just about cushioning the ground. A good sleeping pad like this Therm-a-Rest pad will get you up off the ground and insulate your body from the cold ground. You'll end up 5-10 degrees warmer throughout the night.
Consider Earplugs/Masks: There's a reason why backpackers wake up so early. The sounds of nature are loud and tents let in a lot of sunlight. If you don't want to wake up at 6am consider bringing along a eye mask.
Smells Attract Wildlife: Remember that any type of strong smell is going to attract wildlife. Try not to wash your camping clothes in fruity smelling detergents or wear smelly deodorant or perfume/cologne. Store anything that has a strong scent outside of your campsite so you don't attract wildlife.
Pee Before Bed: For some reason peeing before bed makes you warmer throughout the night. I'm not a doctor so I have no idea why.
Prepare For Restroom Breaks: If you pee a lot during the night you want to figure out a game plan. Get your shoes and a flashlight ready for when nature calls.