I've always had a hard time wearing contacts on camping and backpacking trips so I have to carry a pair of prescription glasses and sunglasses. My glasses were always the last thing I tossed in my pack so I never thought about weighing them.
Once I decided to drop down into the lightweight and ultralight category I was struggling to get my pack weight down. That's when I realized I was carrying two glasses cases that weighed a little over 4oz each (1/2 lb) and my glasses weigh about 1oz each. So that's a combined weight of over 10oz in eygless/sunglasses, which is way too much.
So I decided to do something about it and started looking for a lightweight case to keep my eyeglasses in. I bought a few lightweight glasses cases on Amazon, but none of them were light enough for my needs.
There was one plastic case that I liked at 1.2oz, but I ended up going with a much lighter homemade case. I modified an expandable paint brush tube (this one) to get my glasses weight down into the .5oz range. I'll explain how to modify a paintbrush holder below and go over a few other options that you might want to consider.
Buying An Ultralight Glasses Case
There aren't all that many options when it comes to ultralight glasses cases. The vast majority of cases are over 4oz, but there a few lightweight options. You can go with either a cheap plastic clamshell style or lightweight aluminum case.
The lightest aluminum case I could find weighed just over 1.8oz which is heavier than I'd like. So I ended up going with a cheap plastic clamshell case that I found on Amazon (1.2 oz per case). The only problem is that it's too small for my sunglasses, but it would be fine for my prescription eyeglasses.
That's much lighter than any other case that I was able to find, but I wanted to try to get the weight down even lower. Thankfully the listing included 2 cases so I hade one to play around with. I went through the case drilling around holes everywhere.
It's a cylindrical case so you can put a lot of holes in without losing structural integrity. After drilling about 20 quarter inch holes I was able to get the weight down to about 7oz. That's really light, but I decided to look into DIY solutions to see if I could find a lighter case.
How To Make An Ultralight Glasses Case
After searching for a few options online I realized that the secret is finding the right food package to repurpose. So I went down to my local grocery store to see what I could find. I tried a lot of different food containers and ended up finding a few options. Some worked and others were too flimsy to hold up under pressure.
I found a few options at the grocery store. A few of them were great and others needed work. So I decided to keep looking around. Here are the best homemade ultralight glasses cases I could find.
Paint Brush Tube:

This is by far my favorite option! I went with a cheap plastic paintbrush tube that I found on Amazon.

It's 2.4″ wide and 8.5″ long so it's big enough to fit almost any pair of glasses. The total weight of the tube is just over 2oz, but it's a telescoping tube so you can modify it to get the weight down. Cutting the tube down to the length of your glasses, removing the telescoping section, and strap will get the weight down to .5 oz.
Crystal Light Tube: Crystal light tubes are probably the most popular choice among ultralight backpackers. You can find it cheap at any grocery store and it comes in at 1.06oz without modifications.
Oversized Prescription Pill Bottle: Most pill bottles are too small for glasses, but they do have larger sizes for storing certain medications. I got mine from CVS after explaining to the pharmacist what it was for, but you can find them on Amazon. A 60 dram pill bottle is extremely sturdy and weighs just under 1.2oz, but it's not big enough for larger sunglasses at 1.91″ wide.
Option 1) Paint Brush Tube
I started off looking at plastic pen/pencil tubes, but most of those were bigger/heavier than I needed. That's when I found a telescoping paint brush tube at Hobby Lobby. It was the perfect size at 2 1/4″ and longer than I needed at 8 1/4″ (telescopes to 13″), but I had no idea how heavy it was.
So I ended up thinking about it for a day and ordered a Muellery Extendable Plastic Brush Case On Amazon (pictured above). I immediately knew that I found the perfect solution after weighing the tube. It was by far the lightest glasses case I could find, but it needed serious alterations to get the weight down.
It weighs just over 2oz when you first get it, but removing the telescoping section drops it down to 1oz. I cut the telescoping section down so I could use the lid, removed the strap, and shortened the length of the main tube to 6″. That got me a final weight just under 6oz which is just what I was looking for.
Option 2) Crystal Light Glasses Case
The plastic tubes of crystal light drink mix (pictured above) that make 2 quarts were by far the best option as far as food containers go. Once you take off the plastic wrapping it weighs just under 30 grams or 1.06oz. The lid pops on and off easily and my sunglasses/glasses fit perfectly. I tried a few pairs of larger sunglasses and they all fit.
That's a great starting weight, but you may be able to get the weight down by drilling holes around the body. For the price it's worth experimenting to see what you can come up with. I was able to get down to about .8oz before the case started to feel flimsy.
There were a few lighter options, but they all used lightweight plastic. You don't want to use anything that would be easy to crush if you accidentally roll over on the glasses or weight shifts in your pack.
Option 3) 60 Dram Large Pill Bottle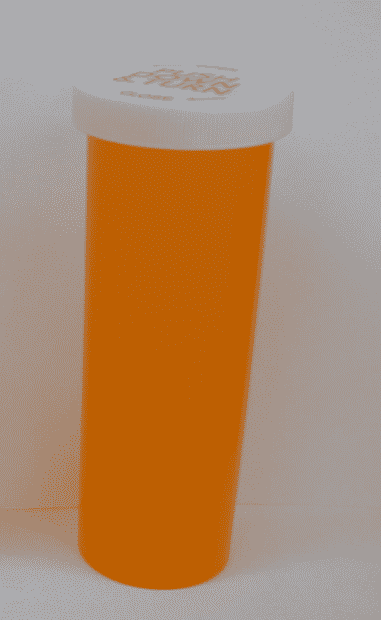 Most standard pill bottles are too small for eyeglasses, but you can find larger bottles. The biggest pill bottle I could find is 60 drams and my bottle weighs 1.2oz. It's too narrow for large glasses at 1.9″ wide by 5″ long, but it's perfect for a small pair of eyeglasses.
I have a pretty big head so my main pair of glasses are too long to fit, but I decided to buy an extra pair of cheap prescription glasses online. If you know your prescription you can get a pair of prescription glasses from Zenni Optical for less than $30 (down to $7). Going with progressive lenses and premium coatings will increase the price a bit, but it won't be more than $75-$100 (depending on frame style).
There are lighter DIY Ultralight cases available, but there's one major advantage to using a prescription pill bottle. They're extremely durable and almost impossible to smash. That's a huge advantage if you have serious