Camping is a cheap way to get away for the weekend, but gear prices have soared over the last few decades. Budget minded campers are always trying to save a few bucks, but can you get away with using a pool float as a sleeping pad?
Can I Use a Pool Float As a Sleeping Pad? You can use a pool float as a sleeping pad, but a real sleeping pad will be much better. A pool float squeaks, takes forever to blow up and it won't be very comfortable. It might work in a bind, but you're better off spending the extra money on a quality sleeping pad.
You can use a pool float in the short term, but you'll eventually want to switch over to a real sleeping pad. Pick up an old school foam sleeping pad if you're on a tight budget. My Therm-A-Rest Foam Pad still gets used in cold weather and when I'm camping close to the car.
In the rest of this article, I'll explain the subtle difference between a pool float and real sleeping pad.
Should I Use a Pool Float As a Sleeping Pad?
When I first started camping/backpacking I couldn't afford to buy all my gear at once. As a broke college student I grabbed a pool float out of my garage and figured what's the worst that can happen.
By the end of that first night the pad was deflated and ready to go in the trash. It was easily the worst night of sleep in my life. Here are just a few of the reasons why pool floats make terrible sleeping pads.
Hard To Blow Up: You will have to blow up the float the old fashioned way. There's no fancy tool to blow it up fast like a real sleeping pad.
Loud and Squeaky: There's just something that happens when a sleeping bag rubs against a pool float. It squeaks, rubs, and makes all kinds of loud noises.
Bounce and Slide: Plan on bouncing and wiggling because you just can't get comfortable. You'll want to toss the pool float outside by the end of the night.
Bulky: It costs a small fortune but my NeoAir X-Lite inflatable pad folds down to about the size of tall coffee mug. That's just not going to happen with a pool float. A cheap $10 foam pad from Walmart is less bulky than a pool float.
Less Durable: Think about how long a pool float usually lasts in water. You might get through 1 swimming season if you're lucky. A real sleeping pad will last for years and will be much easier to repair if it gets punctured.
No Back Support: A pool float isn't designed to be slept on overnight so it doesn't have any back support. Sleeping on the ground will probably be better for your back.
Cold Against The Ground: A real sleeping pad has built in insulation to protect your body from the cold ground. My inflatable pad has a 4.2 R-Value which makes it perfect for winter camping.
Do yourself a favor and skip the inflatable pool float. Honestly, I think you would be better off sleeping on the ground. A foam pool float might work, but that would be ridiculously bulky.
Cheap Sleeping Pad Options
You can get a halfway decent sleeping pad for $10-20, so why bother with a pool float. Here are a few of my favorite budget options.
Head down to your local Walmart if you're on a really tight budget. My Walmart has an Ozark Trail Foam Pad for $9 and a bulkier pad for $12. I would spend the extra money on a Therm-a-Rest foam pad (it's warmer/lighter), but you really can't go wrong with any foam pad.
I prefer a self-inflating sleeping pad, but you will have to spend a little extra money. They're filled with expanding foam that sucks in air when you unscrew the valve. These are by far the most comfortable sleeping pads designed for backpacking.
The Coleman Self-Inflating Sleeping Pad is one of the cheapest self-inflating pads available and it's surprisingly comfortable. Therm-a-Rest Trail Scout Self-Inflating pad is more expensive, but it comes in a few different sizes and it's 8 oz lighter.
Try a Yoga or Stretching Mat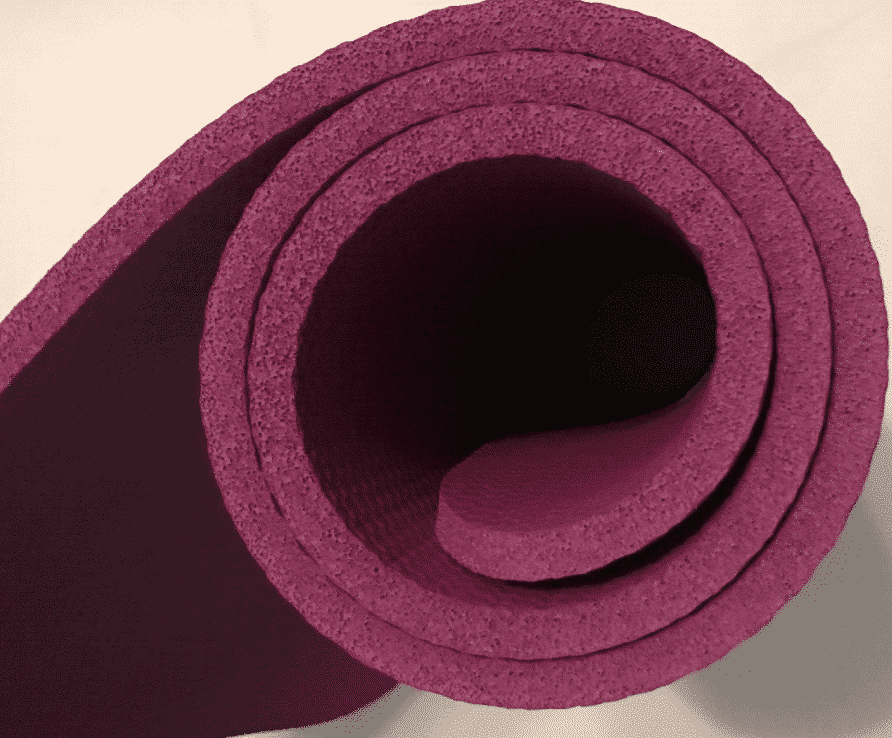 If you're not willing to spend money on a traditional sleeping pad you might have an old yoga or exercise mat lying around. One of those extra thick foam mats like the one pictured above works really well. A thin rubber mat won't offer much protection from the cold ground, but it will shield your back from sticks/stones.
A yoga mat will be somewhat heavy and cumbersome to take backpacking, but you can always strap it to the top/bottom of your pack. Just grab a few bungee cords and strap her down.