Timberlands are one of the most iconic work boots on the market. They're known for their signature yellow work boot that's been around since the 70s, but they wide variety of boot styles. Timberland's have become quite popular over the years, but are Timberlands good for hiking?
Some people say that all Timberland boots are good for hiking, but that's not always the case. In fact, many models – including the Classic 6 Inch Boot are far too heavy to be used by hikers. Timberland sells traditional hiking boots, but most of the their iconic styles are too bulky to hike in. You can get away with wearing them on short hikes, but the added weight will wear you down on extended hikes.
Unfortunately there isn't a simple yes or no answer as to whether or not you should hike in Timberlands. It depends on the model you choose. There's a big difference between the iconic yellow 6-inch Timberlands and their shorter lightweight hiking boots. Your feet/legs will eventually get used to the added weight of their full-sized boots, but there are much better options on the market.
Are Timberlands Good For Hiking Or Not?
There's no clear answer as to whether or not Timberlands are good for hiking. They have a wide lineup of boots so it depends on the style you're talking about. But let's make an assumption for a second. The vast majority of people that refer to "Timberlands" are talking about their iconic 6″ yellow work boot.
If you're talking about their classic 6″ yellow boot, the answer would probably be no. They're a great boot, but they're not made for hiking long distances. Hiking a few miles in yellow Timberlands may not be that bad, but your legs will wear out fast on extended hikes.
My size 12 Timberlands weigh just over 4lbs for the pair. Compare that to my traditional hiking boots (Merrell Moab 2 Ventilator) that weigh just over 2lbs and trail runners (Altra Lone Peak 6) at 1lb 5oz.
They're much lighter than the iconic yellow boot and much better for hiking long distances. Remember the saying "one pound off your feet equals five off your back". That's not perfectly accurate, but shaving weight off your hiking boots makes a huge difference on long hikes.
You will eventually get used to hiking in Timberlands, but there are far more comfortable options. Timberland has a wide variety of traditional hiking boots. They're much lighter than the iconic yellow boot and much better for hiking long distances.
Can You Hike In Timberlands?
You can hike in a pair of Timberlands, but I wouldn't recommend it. Timberlands offer great traction and they're sturdy enough for hiking, but they're far heavier than traditional hiking boots/shoes. The additional ankle support of a tall work boot is nice, but it's not worth the added weight.
They're twice as heavy as almost every other hiking shoe and you want to shed as much weight as possible when hiking long distances. You will eventually get stronger and build up your hikers legs (aka trail legs), but you'll far more comfortable in a lighter boot.
What are Hikers Legs (aka Trail Legs)?
There's another major problem most people overlook when thinking about hiking in Timberlands. They're 100% waterproof, which sounds like a good thing, but most hikers don't like hiking in waterproof shoes. Your feet get ridiculously sweaty and they take forever to dry(I explain below).
Switching over to a traditional pair of hiking boots or trail runners would be a much better idea. The weight reduction off your feet will make a night and day difference. Carrying extra weight on your feet will take a huge toll on your body throughout a long hike. You won't just feel a difference in your legs/feet, your entire body will feel better wearing lightweight hiking shoes.
If you already own a pair of Timberlands and can't afford a pair of regular hiking shoes, there's another option. You can hike in any pair of traditional athletic/running shoes. They will be far more comfortable than hiking in Timberlands and you rarely need the additional ankle support of a traditional boot. The only time you may have to worry about ankle injuries is when you're hiking through technical rocky terrain or there's a risk of slipping in mud, wet grass, ice, etc.
---
Problems With Wearing Timberlands As A Hiking Boot
1) Timberlands Turned Into A Fashion Boot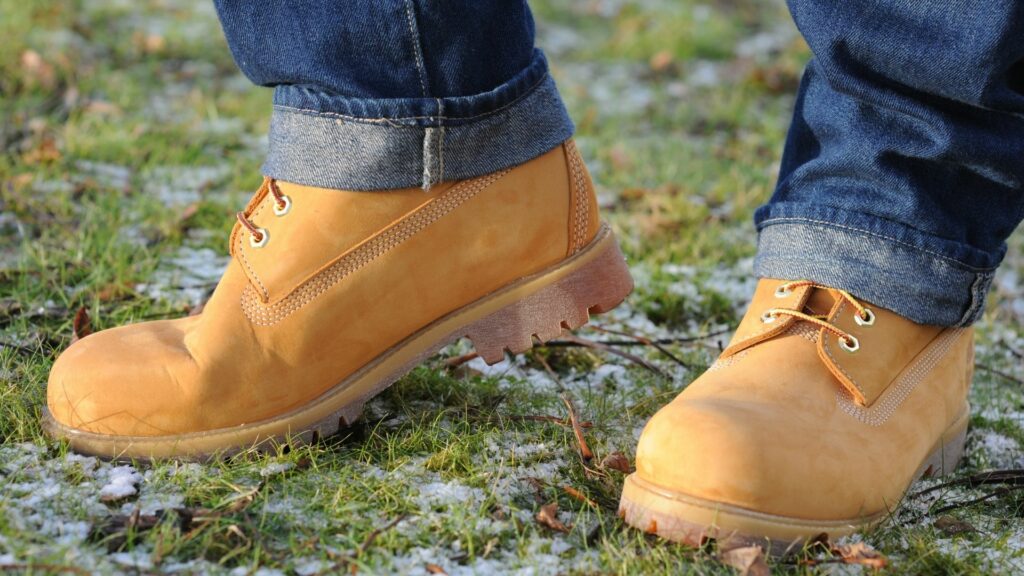 The problem with Timberlands is they veered into a fashion over function category. They're marketed as a work boot, but most people consider them as a "Fashion Boot". Timberlands aren't as durable as a high quality work boot and they're not light and breathable like performance boots.
They remind me of the saying "jack of all trades master of none". Timberlands are good enough at everything, but they're the best at anything. The only exception would be from a very specific nostalgic fashion standpoint.
While a pair of Timberlands may work on short hikes, problems start to build up fast on high mileage hikes. They don't have the durability or performance of modern hiking boots. Timberlands can handle short hikes, but don't plan on wearing them on a multi-day backpacking trip into the middle of nowhere.
2) Leather Is An Outdated Material- Modern Boots Are Moving Towards Lightweight Breathable Synthetics
Leather boots have been around since the stone ages. I wouldn't say that leather is a bad material to use in boots/shoes, but traditional hiking boots take advantage of modern materials like Gore-Tex and breathable water-resistant synthetic materials. You get most of the waterproofing of leather without the ventilation issues.
Timberlands look and function exactly like they did 50 years ago. It's an iconic style, but there have been almost no design changes since they were first hit the market in 1973. Their boots are still popular due to nostalgia, but it's much easier to hike in a modern boot.
Experienced hikers understand the importance of choosing a light and flexible shoe. Taking weight off your feet will make a huge difference throughout a long hike. Switching over to lightweight flexible hiking boots will be like removing 10lbs from your pack.
Timberland Introduced Hiking Boots To Their Lineup
Timberlands don't even come close to the performance of a modern hiking boot. Timberland understands the problems with their boots and they're trying to branch out into modern styles. They'll never completely abandon their iconic style, but they've started to offer modern hiking boots.
Timberland hiking boots aren't what I would consider bad, but they're at a weird price point. They're more expensive than entry level hiking boots, but they're not as durable as quality hiking boots. An entry level Salomon, Keen, or Merrell boot will outperform any of Timberlands Hiking boots at a similar price point.
3) Heavier Than "Real" Hiking Boots
At over 4 pounds for the pair, Timberlands are twice as heavy as every other pair of hiking boots that I've owned. The added weight leads to a bunch of problems. You will hike at a much slower pace, your legs/feet will be get sore/achy, and they'll be far less comfortable on long hikes.
4) Less Durable Than High Quality Hiking Boots
Timberlands aren't designed for hiking long mileage. They're a great looking work boot, but they don't hold up like most of the other name brand work boots. They may hold up for a while on a job site, but they'll start to fall apart once you increase hiking mileage on the trail.
5) Timberlands Being Waterproof Isn't Always A Good Thing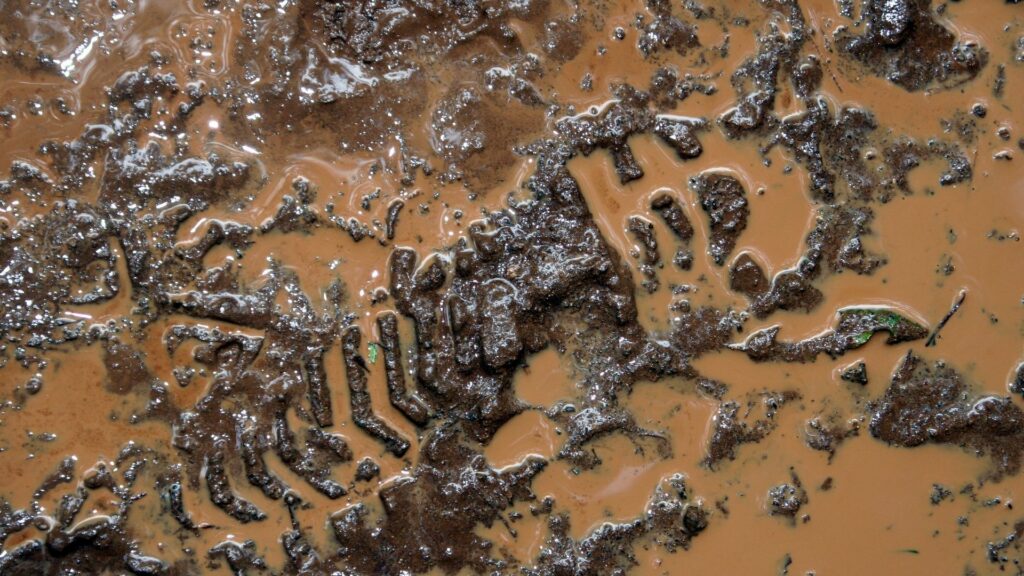 Most people see that Timberlands are waterproof and think it's a good thing. That may be true in some situations, but most hikers can't stand hiking in waterproof boots. That probably goes against everything you've ever heard about hiking boots, but the reason is simple.
Remember that waterproofing works both ways. Waterproof boots are great at keeping out exterior moisture, but they're just as good at trapping in sweat. Your feet will be completely drenched by the end of a long hike.
Plus if there's really a risk of soaking your shoes water will find a way to get in anyway. Waterproof boots take forever to dry on their own. If they get wet at any point on your hike, they'll be soaked the rest of the day (usually much longer).
The only time waterproofing makes sense is when you're hiking in cold weather or going on low mileage hikes in wet conditions. Waterproofing isn't a problem when the weathers cold or there's not enough time for your feet to sweat. With a proper pair of merino wool socks (my favorite) it will actually make your feet warmer by trapping body heat in the sweat.
6) Breathability Issues, Long Dry Times, and More Blisters
Your feet will sweat like crazy in Timberlands. There's no ventilation panels and the sweat will get trapped in the boots due to the waterproofing. Waterproofing might seem nice at first, but it makes your boots difficult to dry. If you get wet early on in the hike, they'll be wet the rest of the day.
When you hike in Timberlands, your socks will get absolutely soaked in sweat. I can almost guarantee you'll run into blister issues on long hikes. Wearing merino wool socks (I like Smartwool) and using blister prevention creams (Desitin) will help, but it's hard to make up for the lack of ventilation.
7) Less Comfortable and Difficult To Break In
Timberlands will never be comfortable to hike in. Your muscles will get stronger to deal with the added weight, but the stiff leather "upper" won't flex like a normal hiking boot. They're not terrible to hike in, but there are more comfortable options at a cheaper price point.
Timberlands are technically work boots so they're much stiffer than traditional hiking boots. You can break in the soles, but the stiff leather "Upper" will be almost impossible to break in. It will improve some, but it will never be as comfortable as hiking boots.
---
There Are A Few Advantages To Hiking In Timberlands
Now that I've listed all of the problems with hiking in Timberlands, it's not all bad. While the yellow boot that they're known for isn't the best option, there are a few good things to say about them. I wouldn't want to go on high mileage hikes, but you shouldn't have any problems on short day hikes.
1) Good Enough For Short and Easy Hikes
Timberlands aren't the best hiking boots, but you probably won't have issues wearing them on short and easy hikes. I wouldn't wear them for a 10 mile hike through difficult terrain, but they're perfectly fine for a 3 mile hike on a manicured trail. They're not perfect, but it's better than wrecking your casual shoes with mud and grime.
The primary problem with trying to hike in Timberland hiking boots is that they won't hold up over time. They're designed to protect your feet and ankles on a job site, not go on long distance hikes. Don't get me wrong, a pair of Timberlands is durable enough for most hikers, but they won't hold up to the mileage of a serious hiker. The seams will start to fall apart and become a serious issue with extended mileage.
2) Versatile Pair Of Everyday Casual Hiking Boots
There's a reason why so many people love Timberland Boots. They don't look like most of the other work boots that I own and they have a cool fashionable look to them. Wearing a pair of Timberlands adds a pop of color contrast that you don't get with other boots. People either love them or hate them, but I've had more comments about my Timberlands than any other boot in my wardrobe.
You can wear Timberlands for a wide variety of activities that don't require serious mobility. They're durable enough to wear as a work boot, work as a fashion piece around town, and they're durable enough for casual hikes. If you need the protection of a durable leather boot on short hikes they work great, but they won't hold up on long backpacking trips or high mileage hikes.
3) Increased Ankle Support and Excellent Traction
Timberlands are much taller than most pairs of hiking boots/shoes. Having 2-3 extra inches of height on your outsole really helps improve ankle support. They're also stiffer than most hiking boots which makes them even better from this standpoint.
There isn't much of a difference between the tread pattern on my Timberlands and "Real" hiking boots. Timberlands may not be made for hiking, but they provide excellent traction on the trail. They perform well in mud, wet grass, and other slippery conditions.
4) Affordable Price Point
Timberlands aren't what I would call cheap, but they're cheaper than a pair of high quality hiking boots. They fall closer to the price point of entry level hiking boots. Cheap hiking boots won't last as long as Timberlands, but they'll be far more comfortable.
They're durable enough to wear as a work boot, perform well on the trail, and they're very popular from a fashion standpoint. Timberland makes a decent pair of work boots, but they don't perform as well as traditional hiking boots.