There's a wide range of sleeping bag liners out on the market. Some of these liners are good while others won't last a season. So how can you tell if a liner will actually last and fit your needs?
One of the fastest ways to judge a liner is by looking at the construction materials and temperature ratings. Within seconds you should be able to make an informed decision. So what's the best sleeping bag liner material?
What's The Best Sleeping Bag Liner Material?
The type of liner you choose will largely depend on the seasons you plan on camping. Liners fall into two basic categories: Lightweight(summer) and Heavy/Warm(winter).
Most 3-Season campers (spring, summer, fall) prefer a synthetic blend made out of microfiber, polyester, etc or traditional cotton. These will be lightweight and cool letting in a little bit of breeze. Silk liners also work although they're used primarily in hostels to fight against bed bugs.
If you plan on camping in the colder months you'll be better off with a fleece or insulated liner. Insulated liners have multiple insulation layers sandwiched between the nylon shell and lining making them extremely warm.
Different Liner Materials
Before settling on a bag you really need to consider the material that it's made out of. Personally, I would go with a thermal liner since they offer the most versatility.
Thermal Liners (High Priced: Winter)
If you can only afford one sleeping bag liner I would go with a thermal liner(my favorite). Thermal liners use a layer of insulation between the shell and outside layer to significantly increase the temperature rating of your bag (25°-32° of additional warmth).
With the 25°-32° of additional warmth, you'll be able to use a 3-Season bag throughout most of the winter extending its functionality. These bags are highly breathable with moisture wicking properties making them very comfortable on even the coldest nights.
In the summer, I ditch my sleeping bag and use my Sea to Summit Reactor Extreme liner (On Amazon) on its own. Adding 25° of warmth it works even on the coldest summer nights.
Fleece and Microfleece: (Cheap: All Season)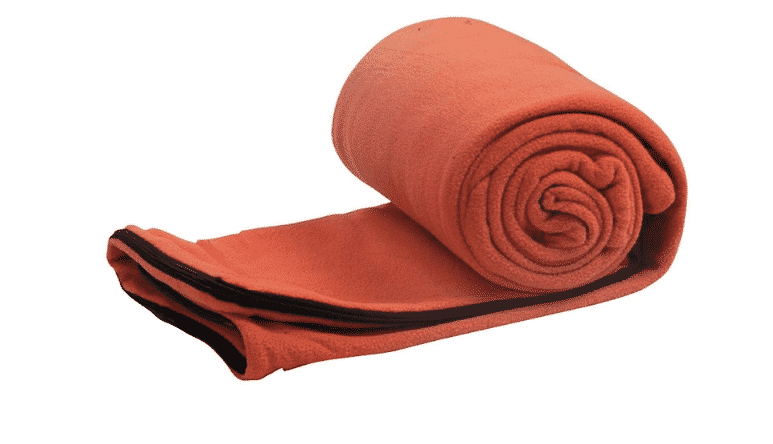 For the price, you really can't beat a fleece/microfleece liner. They add significant warmth to your bag without costing a fortune. Coleman's Fleece Sleeping bag liner (On Amazon) adds 12° of warmth to your bag making it perfect for spring and fall nights. For the price you won't find a better quality liner.
Fleece is soft and comfortable, but a little bit bulky if you plan on backpacking. Plan on storing it inside a compression stuff sack (something like this) to save a little room in your pack.
Microfleece is basically the same material as fleece but much thinner. Microfleece is soft and comfortable, but I think you're better off with a microfiber or synthetic blend over microfleece.
Synthetic (Mid Price: Summer)
Synthetic liners are moderately priced and used primarily in the summer to cut down on sweat. Made out of moisture-wicking and breathable materials these are perfect for humid conditions in the dog days of summer.
Synthetic liners are usually made out of some kind of polyester/elastic/neoprene blend. It's basically the same material found on any Underarmour or Nike Shirt with moisture-wicking properties. Sea to Summits Coolmax Liner (On Amazon) is by far the nicest synthetic liner on the market.
Cotton and Microfibre: (Cheap: Summer)
Cotton and Microfibre liners fall into the same basic category. These liners work and feel just like regular old bedsheets, which is both a good and bad thing. They add very little warmth to your sleeping bag, but they're very comfortable and just like what everybody uses at home.
Cotton and microfibre liners are all basically the same with some very minor quality differences. Save your money and purchase the cheapest liner that you can find On Amazon.
Silk: (Mid Price)
Silk liners are used primarily by backpackers traveling overseas in hotels of questionable cleanliness. The thin fibers are small enough to protect you against insect bites. Although primarily used to fight against bed bugs they also work with mosquitos, ticks, ants, fleas, chiggers, and midges.
People seem to either love or hate their silk liner. I move around a lot in my sleep so silk liners always end up working their way down my bag. Although very light silk really isn't all that breathable. Although it has anti-microbial properties you might want to reconsider silk if you sweat a lot.