Merino wool socks are becoming increasingly popular in outdoor communities, but they're not known for their durability. Some socks will last for years and others can't withstand a full day on the trail. You don't have to spend a fortune to buy durable wool socks, but it's hard to say how long wool socks should last.
How long do merino wool socks last? Premium merino wool socks will last a long time, but they're not meant to be worn every day. You should expect to get a few seasons of use out of well-made socks, but it depends on the brand. Don't even bother with generic wool! It's worth spending the extra money on name-brand socks.
There are lots of different factors that affect the durability of merino wool socks. Spend the extra money on well-made socks so you won't be disappointed. In this article, I will recommend a few different options that should last long term.
How Long Do Merino Wool Socks Last?
Unfortunately, it's hard to compare the quality of different wool sock brands. I've had socks that last years and others that wore down in a day. It all depends on how well the socks were made and how you plan on using them. Every brand is different!
I have 1 major rule when buying merino wool socks. Don't cheap out! You need to spend at least $5 per pair of socks. Generic wool socks won't last more than a few days.
You can expect to get a few seasons use out of premium brands like Darn Tough, Smartwool, and Icebreaker socks. How long the socks last will depend on how you use them.
They aren't meant to be worn every day, but they will handle moderate abuse. I've found that Smartwool socks are the most comfortable, but Darn Tough and Icebreaker are more durable.
Wool is Less Durable Than Cotton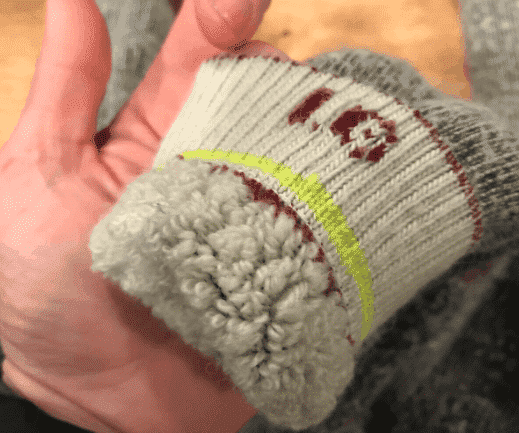 Wool wears down faster than cotton and synthetic blends. They aren't meant to be worn every day, but that doesn't mean they won't last.
I've been wearing the same pair of Darn Tough socks for years and they still look good. The heel is worn down and they have a couple of small holes, but they're still functional.
A Few Long-Lasting Merino Wool Sock Brands
When it comes to merino wool socks you really do get what you pay for. You'll end up with holes in soles of cheap wool socks in less than a day. On the other hand, my Darn Tough socks have lasted a few years. They don't look perfect, but they don't have holes.
There's Not A Lot of Consistency Across Brands
I've had a lot of luck with the brands listed above, but you occasionally run into a dud. It doesn't matter what brand you buy, every now and then a pair just doesn't last. There's just something that causes them to get holes and fray fast.
It all depends on where the socks were made and the quality of the production run. You can usually get a replacement pair by emailing the customer service department.
Buying cheap no-name brands is a serious gamble. You never know what you're going to get. I had luck with the Kirkland Signature Brand Socks (Costco) for years then one day they just started to suck.
Read the reviews for Kirkland Socks on Amazon. They go from 5-Star amazing reviews to socks that don't last for more than 1-Day. It all depends on the quality control of that specific batch.
Can You Make Wool Socks Last Longer?
Wool socks generally aren't known for their durability. It doesn't matter what you try, they will eventually wear out. You just need to start off with better socks and be careful how you wash them.
Most modern wool socks can go in the washer and dryer, but you'll want to check the care label to make sure. I put mine in the washer on a gentle cool or warm cycle. Using hot water could shrink wool garments, but that's rare.
You might want to check out my post explaining how to tell if merino wool socks will shrink.
After washing your socks you can either toss them in the dryer on low heat or let them air dry. There's less risk of damaging/shrinking the socks if you let them air dry without external heat.
Just set them on top of your washer/dryer and wait a few hours. You can use a fan to speed up the drying process, but it's not necessary. Don't set them out in the sun or use an external heat source to speed up the drying process.
Never Hang Wool Socks To Dry
Hanging up your wool socks will cause them to stretch out over time. It probably won't happen the first couple of times, but the added water weight will stretch out the toes of your socks.